25 Unique Gardening Gifts & Ideas for Gardeners with a Green Thumb
The best part of gardening is getting down and dirt-y while cultivating your own beautiful corner of nature. There is something immensely rewarding about growing your own veggies, herbs, and flowers, spending time each day watering and pruning and caring for your little sprouts. And if you're a gardener, chances are your list of pals who share this interest is pretty long.
With all those green thumbs on your holiday shopping list, we've got you covered for some unique gardening gifts that will make them smile!
Best Gardening Gifts
These gifts range from gardening tools and supplies to plants and seeds full of potential. So if you know someone who loves to garden, check out these unique gift ideas and give them something they'll love!
1. Gardener's Tool Seat
Grown tired of lugging around your heavy tools and that darn lawn chair? Outdoor enthusiast or not, this is the perfect tool for you. It can turn into a comfortable seat in seconds, allowing you to be comfortable anywhere at anytime! Plus, you can keep those shears and spades all in one place, never to be lost among the weeds again.
2. Harvest Basket or Bolga Basket
by Vivaterra
Nothing beats the feeling of snagging your first sweet potato from a vine. But once you get to harvesting the tomatoes and peppers, your hands (and pockets) will fill up pretty fast.
Want to make your harvesting a little easier and show off your produce at the same time? This Gardener's Harvest Basket is a traditional container that you can use to wash your veggies and bring them in the house without getting dirt all over the floor. The basket can hold at least 20 pounds of harvest produce, making your time spent harvesting even more "fruitful"!
3. Socks
by Blue Q
You can't go wrong with these adorable socks guaranteed to make your favorite plant fanatic laugh out loud! Plus, when you purchase these socks, 1% of sales benefit Doctors Without Borders – so it's a win-win situation all around. With this thoughtful gift, you can brighten up a gardener's day while also helping make the world a better place.
4. Leather Garden Markers
by Etsy: SarahBak
What's not to love about these ceramic garden markers?! These beautiful plant accessories are just as practical as they are beautiful! They make a great gift for any gardener and are perfect for displaying their favorite plants at home or in the office.
5. Gardening Gloves or Personalized
Gardening is fun, but it can be hard on even the toughest of hands! These gloves will keep your loved one going all day in the garden without any worries of getting scratched up or burned by the sun. Plus they come in a variety of colors to match your style! If you're looking to get them something extra special, check out the personalized garden gloves from TreatRepublic on Etsy.
6. Composter
by FCMP Outdoor
Composting is a great way to reduce waste and create nutrient-rich soil for your garden. But it can be hard work, especially if you have a large compost pile that needs mixing every day.
The Outdoor Dual Body Tumbling Composter makes this process easier by spinning the compost automatically in just 2-3 days. This practical gardening gift is easy to use and saves time so your eco conscious loved one can spend more of it doing what they love outside. One of our staff here at L&L is an avid gardener and she swears by her tumbling composter!
7. Artwork
by Minted: Jess Franks
This print is perfect for any space that needs some life. It features vintage florals painted in a vibrant modern style that will fit right in with all types of décor. The colors are bright and bold, making it the perfect addition to your living room or bedroom. You can't go wrong with this one!
8. Funny Kitchen Towels
by Etsy: DoTakeItPersonally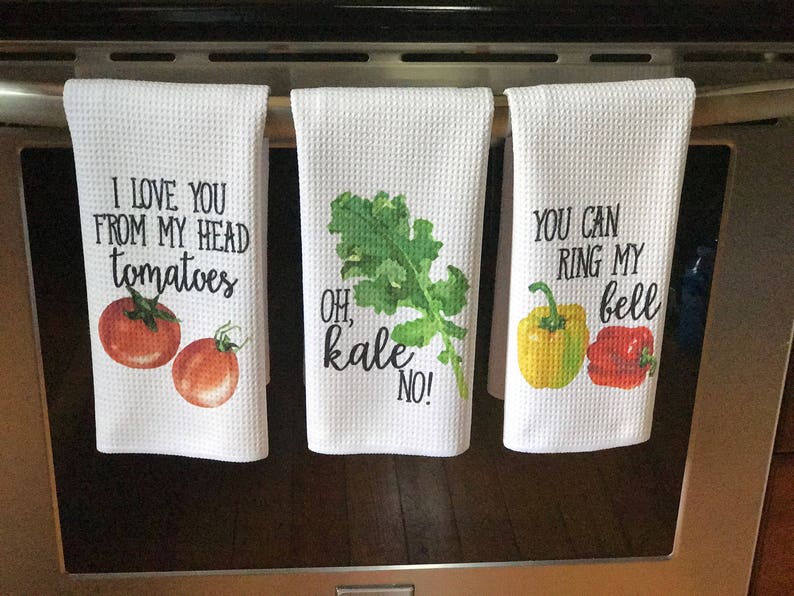 These towels are perfect for anyone who loves to have a good laugh. They're the perfect addition to any kitchen and will make cooking even more enjoyable, turning even the worst days around with their humorous designs and amazingly cringe-worthy puns!
9. Modern Bird Feeder
by Etsy: Thappey
This bird feeder is perfect for anyone who wants to attract more birds to their yard. Kiln-fired and made of unglazed ceramic, it is attractive, long-lasting, and perhaps best of all, is easy to clean with soap and water. Hang it from a hook on your balcony or tree branch and watch the birds flock. A great gift for a gardener who also appreciates the art of birdwatching!
10. Garden Cart
by Terrain
Gardening is a great way to get outside and enjoy the fresh air, but it can be tough when you have to lug around heavy tools and supplies all day long.
That's why this Ultimate Garden Cart is such a great gifting pick! It has an aluminum frame with high-density polyethylene wheels for easy maneuvering over rough terrain. It also has a solid rubber tire design that won't go flat, so it will keep on going in even the bumpiest of gardens.
11. Garden Sign
by Etsy: langleymetalworks
These personalized metal hanging garden signs make the perfect gift for your favorite gardener. They are handcrafted by a family-owned and operated shop in rural Texas, making them truly one of a kind. You can customize your gift with any name, word, or phrase and can pick from 12 different color options. These signs will last forever and be cherished by the recipient!
12. Dig It or Plant Lady Sweatshirt
Whether they're worn with jeans and an ankle boot or leggings and your favorite pair of sneakers, these cute sweatshirts will complete any plant lover's wardrobe. The possibilities are endless with these adorable pieces that perfectly blend a love of gardening with a love of fashion.
13. Watering Can
by Behrens
This Behrens Watering Can is the perfect solution to any and all outdoor watering needs. Made from hot dipped steel, it has a large rosette that disperses water with more force than a plastic alternative and is more durable and longer lasting. It's also lightweight, making it easy to carry around in any yard or garden. It's an essential tool for anyone who spends time outside among the flowers.
14. Weeder Gardening Tool
by Wal-Mart: Grampa's Weeder
This Stand Up Weed Puller is a simple, easy-to-use tool that makes removing weeds from the garden bed easier than ever. It's designed to be used by anyone and it's so much fun they might even forget they were on weed duty!
15. Gardening Tools Necklace
by Etsy: LeBuaJewelrytoo
This charm necklace is perfect for any gardener who loves their tools. It includes a shovel, rake, and hand-stamped initial charm on a stainless steel chain. The charms are made of lead-free pewter and have been hand stamped with an antique finish so they will last forever. They come in three different colors – silver tone, gold tone, or copper tone – so you can choose which one fits their style best!
16. Custom Pillow
by Etsy: CarolinaHomeStyle
Give them a personalized gift that showcases their favorite hobby with this custom garden pillow. It features an easy to open zipper, thin durable heat press vinyl transfer and 100% cotton fabric. Plus, it can be personalized it with any name or year! They will love having a personalized pillow that shows off their passion in style.
17. Gardener Mug
by Etsy: MyPerfectMug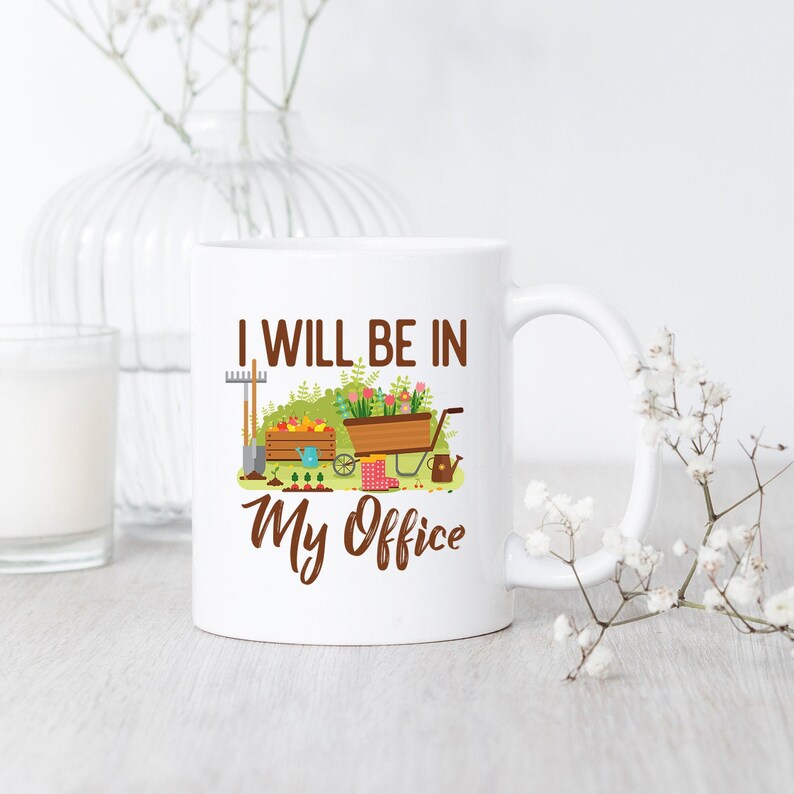 This is just what every gardening lover needs to make their mornings better – or even their afternoons! The best part is that this mug holds up to 16 ounces of liquid which means more time drinking and less time refilling. With this mug, they'll have plenty of energy to rise with the sun and get a head start on the day's tasks. (Hopefully, at least a few of those tasks are garden-related!)
18. Garden Subscription Box
by Cratejoy: My Garden Box
Perfect for the budding gardener, these monthly subscription boxes are curated with the perfect plants and supplies to make gardening a breeze. You can be sure that they'll send something new every month, so there will always be something exciting waiting in the mailbox!
19. Rain Boots
by Joules
Available in a variety styles, these boots are sturdy and just downright plain pretty. With gusset construction and an adjustable strap, these will become their go-to for those cold rainy days!
20. Garden Shoes
by Crocs
Crocs are the perfect gift for that green thumb constantly losing tracking of time in their garden. The flexible, lightweight foam wedge heel offer a great deal of comfort, allowing them to work in their favorite place for hours on end. And when they inevitably get covered in mud and plant trimmings? They can quickly rinse clean with the garden hose!
21. Sun Hat
by FURTALK
This classic sun hat is the perfect way to make sure your loved one's face and neck are protected from UV rays, while also making sure they look trendy and fashionable. It's crushable for easy packing in a suitcase or a backpack, and it comes with a drawstring bag for handy storage. The wide brim offers maximum sun protection so they'll stay safe wherever the sun tracks during the day.
22. Garden Journal
by Etsy: TheGreenConspiracy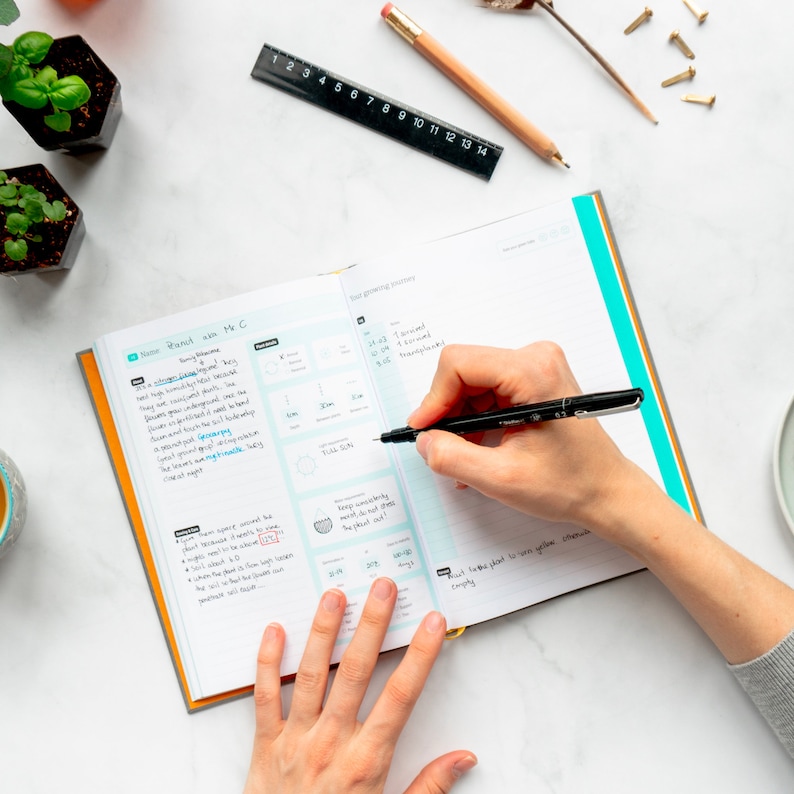 Check out this sweet garden journal, designed for everyone from beginners to experts. It allows you to track what was planted and how it fared over various seasons and weather conditions, all while being organized so you can access past entries with speed. This is a gardener's dream come true!
23. Garden Bench
This beautifully designed steel garden bench is the perfect place to relax and enjoy any outdoor space. It features weather-resistant paint, a sturdy frame, and plenty of room between each board for comfortable seating up to 3 people. The open backrest provides airflow so that you stay cool in warmer temperatures and the armrests offer comfort from sitting for long periods of time.
This bench will remain as strong as ever over the years while you make memories on your own little piece of paradise.
24. Houseplant Jungle Puzzle
by Galison
When life gets stressful, sometimes all you need is a relaxing activity to take your mind off things. Tackle this humongous 1000-piece puzzle and achieve nature nirvana in your living room by navigating over 50 different plants from the beautiful illustrations of artist Troy Litten. The peaceful Zen feeling will calm even the most anxious mood. Perfect for anyone who enjoys green thumb therapy!
25. Botanical Greeting Card
by Etsy: LizzieMayDesign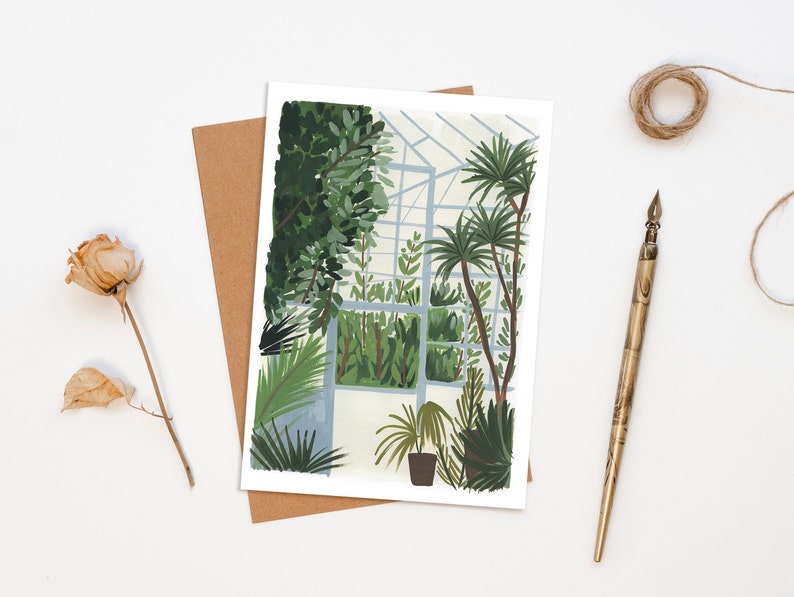 Who doesn't appreciate a calming botanical garden? A perfect card for the plant enthusiast in your life, or anyone who enjoys floral scenery. This versatile greeting card features an indoor garden at it's peak of bloom, with all sorts of pretty green plants to complement your heartfelt message.
Gardening Gift FAQ
Are gardening gifts good for a wide range of people?

Yes, gardening gifts can be good for a wide range of people. The type of gardening gift will depend on the person's gardening skills. Gardening tools are good for beginners all the way to experts. Knives for gardening are more advanced while gardening gloves would be more suitable for beginners or intermediate gardeners.
What gardening gifts tend to be the most popular?

The gardening gifts that are the most popular tend to be gardening tools and gardening-related items. These include gardening tools such as hammers, gardening gloves, gardening baskets, gardening cuffs, gardening knives and gardening scissors.

Other popular items include pots for plants, gardening bags or gardening containers, seeds for planting, and gardening gloves.
Everyone Romaine Calm
Whether you're shopping for an experienced plant enthusiast or a beginner gardener, we hope our list of gift ideas has given you some inspiration and helped to simplify your search!
Happy gardening & gifting!
Shawnia is a California native who followed her heart to the UK where she now lives with her husband and her immense collection of vinyl records and old books! A higher education administrator by day, she spends her nights and weekends writing for L&L, particularly enjoying articles focused on unique jewellery items, home décor, and funky wedding dresses. A few fun facts: her favorite color is pink, she ONLY wears rose gold jewellery, and she was married in Las Vegas, Nevada with a staggering guest list of four people!