14 His & Hers Gifts For Your Favorite Happy Couple!
What do you buy the person who has everything?
It's one of the most commonly asked questions from people looking for the perfect gift for a loved one. But what if you're looking for something to give that couple you know crushing the relationship game? In that case, separate gifts just won't do.
Turns out, with a bit of perusing and some thoughtful contemplation, finding his & hers gifts for the couple who has everything isn't that tricky! After some interwebs shopping, we've found 14 really neat his and hers gift ideas for couples they'll love to brag about almost as much as their happy, stable relationship.
His & Hers Couple Gifts For All Kinds Of Lovebirds
1. Matching Watches
Fancy watches with actual hands are making a comeback, and we're all about it!
We happen to think this his & her gift set would make a fantastic wedding gift – it includes matching watches with a second hand and stopwatch capability.
The gorgeous gold face and the rich brown leather band are oh-so-swanky. Move over matching bracelets and Vaya con Dios, digital watches; there's a new sheriff in town!
2. Love & Victory Ours Decanter Set
by West Elm
A matching whiskey decanter set is a fantastic gift for any couple to enjoy a toast together after a long day. We are lovin' the inclusivity featured in the product description for this decanter set. After all, happy couples come in all kinds of combos. We think thoughtful gift ideas should, too.
3. Mr & Mrs. Reversible Muse Mug
Everyone should drink their morning coffee out of a piece of art like this! Handsome mustache on one side, full pouty lips on the other. Your favorite couple can share, sure, but probably best to get one for each of them. No one wants to start a long-running morning coffee feud.
4. Breakfast Sandwich Maker
Practical gifts for couples should show up on every wedding registry, and this one is the ultimate. (Sorry, cheese board and champagne flutes!)
Banish to-go breakfast sandwiches forever! That's our mantra anyway. This sammy maker is an excellent idea for couples who seem to always be pressed for time in the mornings. Ha! Get it? Pressed for time? Anyway…
It makes two sandwiches at a time, features a foolproof timer, and comes with a handy dandy cookbook with all kinds of sandwich suggestions to keep it spicy.
5. Etched Wine & Whiskey Glasses
by Etsy: EverythingEtchedAZ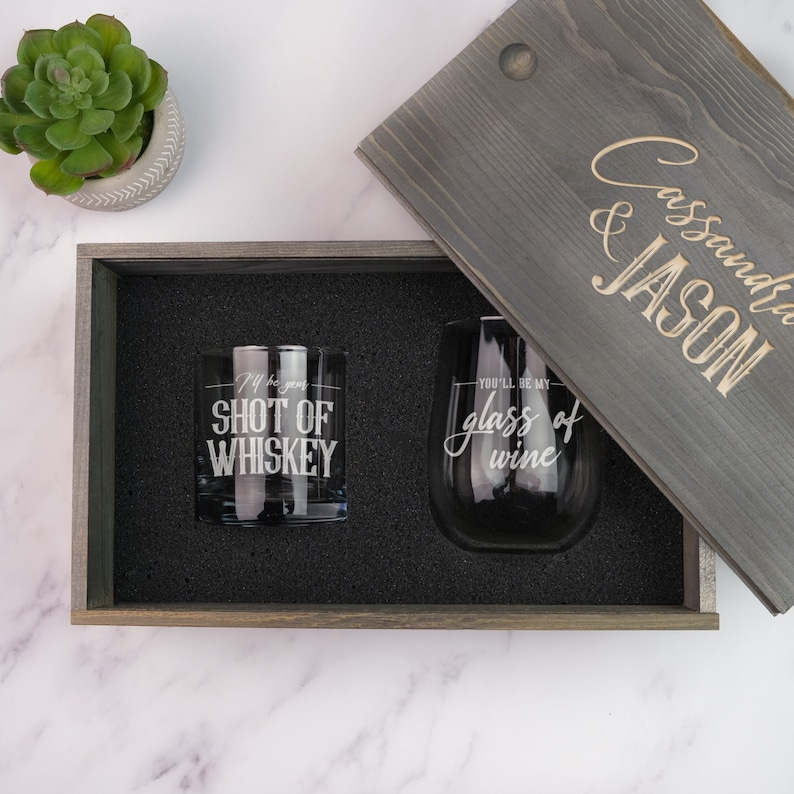 Bridal shower gifts for couples can get sort of predictable, so we skipped over the matching wine glasses or personalized champagne glasses in favor of something much more interesting here.
After all, the couple who drinks together stays together, right? Maybe. But one thing's for sure, this pretty gift set is a great engagement gift idea for couples who like to bond over beverages now and then. (I sense a romantic-evening-in coming up!)
The glasses come in a personalized etched box to make it really special, or you can opt to go box-free and wrap them however you wish.
6. His & Hers Linen Aprons
by Etsy: Whiprint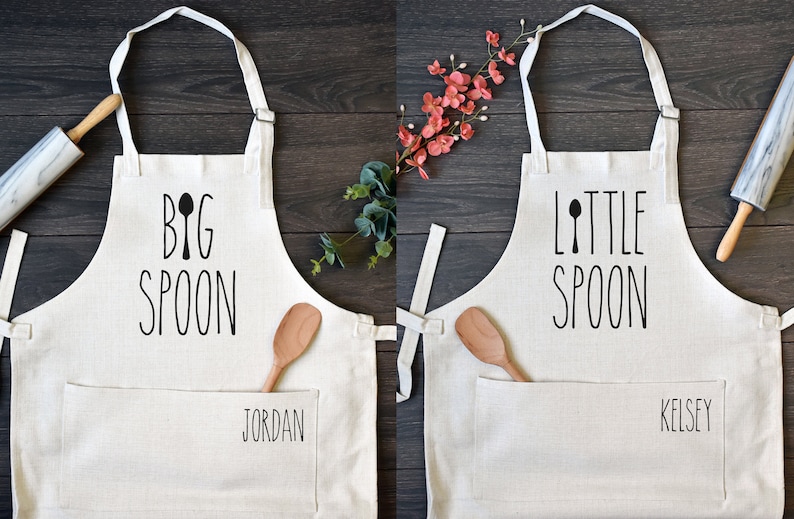 Every good chef needs a fancy apron! If there are two cooks in the kitchen, these are extra cute for couples who like to create gourmet meals together. Or just throw on some mac and cheese and be done with it. Either way, your favorite couple will look like they know what they're doing.
You can opt to personalize the aprons with their names or leave them as is.
7. Lost Koozies
Ok, these koozies made us lol when we first saw them for real. They're so clever! Not to mention helpful! After all, summer is coming, and friends don't let friends lose their beverages! (Or drive after consuming said beverages…)
8. His & Hers Robe Set
by Etsy: JoyfulTidingsBridal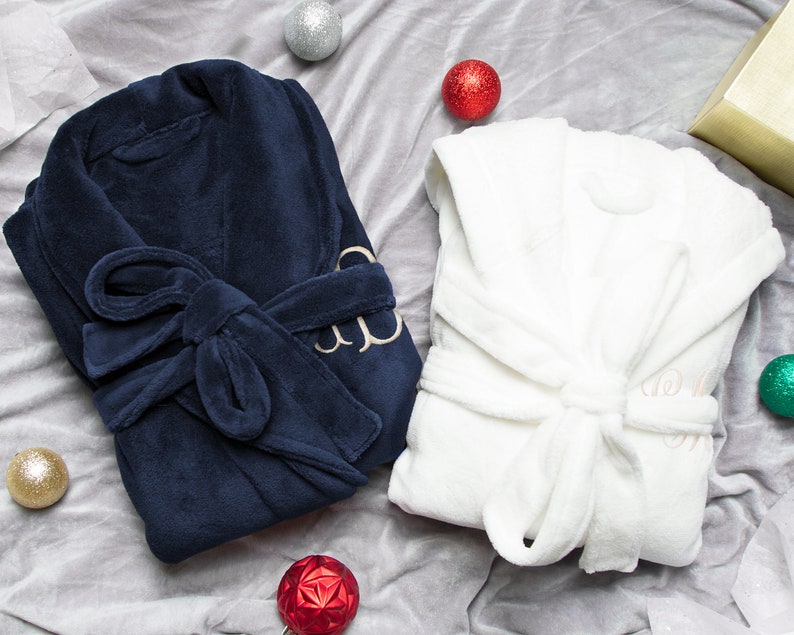 Lounging together over morning coffee never looked so stylish! These cozy matching his & her bathrobes with a unisex design would make a fantastic couples gift for Christmas. Or Valentine's day gift for those couples who are into couples massages. Or a bridal shower gift for couples who just love to hang out together.
They're hand-embroidered in a wide variety of thread colors, made from plush poly microfleece, and feature a hood, belt, and POCKETS! Honestly, we don't understand bathrobes without pockets. But they're out there.
9. His & Hers Towel Hooks
by Etsy: TheWebsterCollection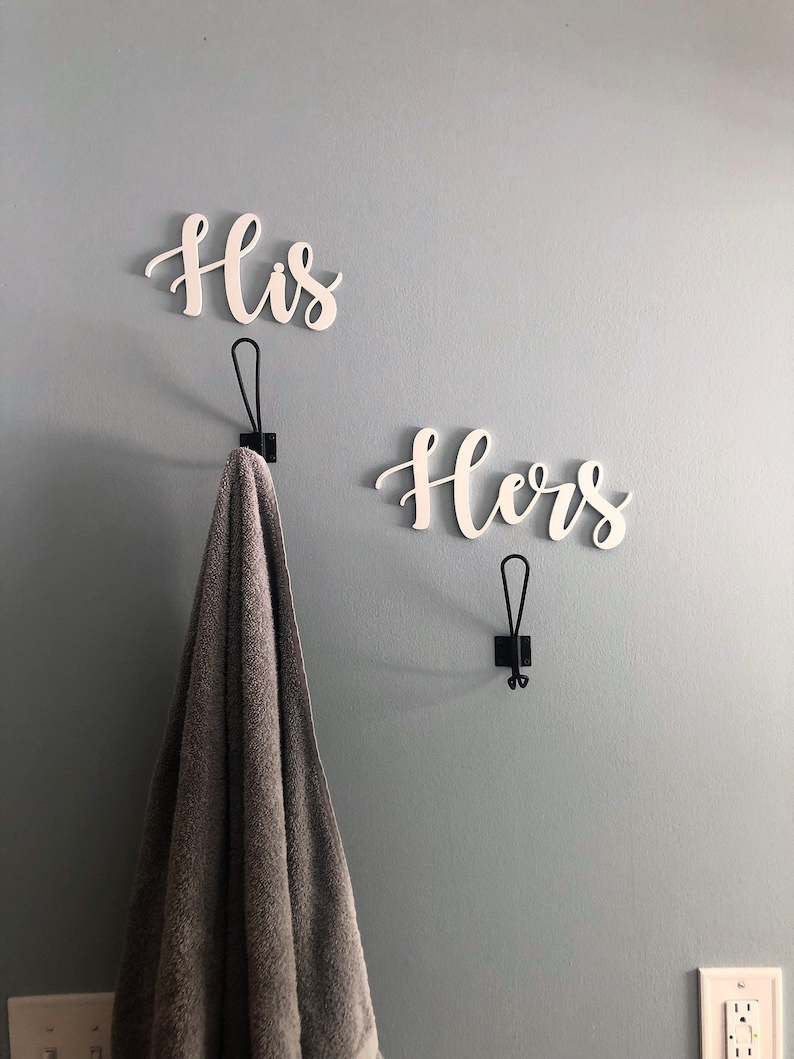 Whether you're buying for a married couple who've been together for a long time or young pups just moving in together, one thing's for sure: people can get pretty territorial with their bath towels.
So be a hero and resolve that conflict with his and her towel hooks!
These wooden towel hooks are so cute; we think they'd match any bathroom decor. While you're at it, why not get them hilarious bathroom wall art to go with it? We're particularly partial to #1 on our list. Altogether, you're looking at a superior housewarming gift, but that's just our opinion.
They come in small, medium, or large, with or without hooks.
10. Mr. and Mrs. Luggage Gift Tags
by Etsy: DearlyBeelovedLLC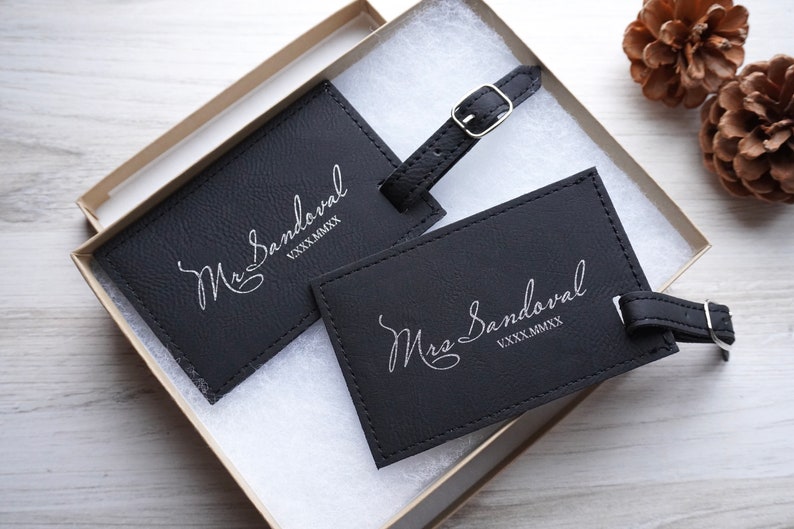 As useful as they are beautiful, this luggage tag set is the perfect wedding day gift for soon-to-be honeymooners! They come in a variety of designs, leather options, and text options in a gift-ready box with a personalized card from you.
11. Satiny Personalized Matching Pajamas
by Etsy: YourlovelyshopDesign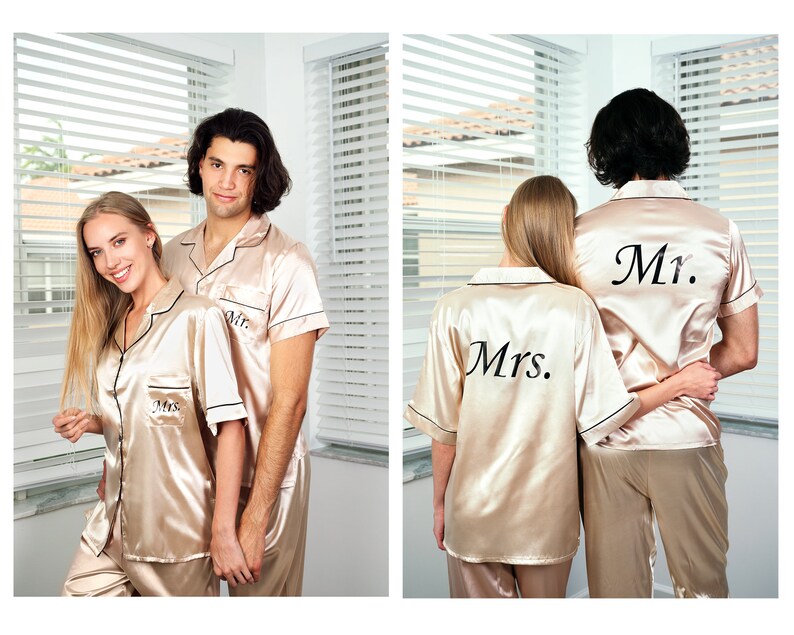 It's the bridal shower gift that keeps on giving! Matching jammies are always a romantic gift, especially for newlyweds and happy couples who aren't to the point where they want their own space in the bed. You can customize these with whatever text you like (within reason) or leave them as-is.
12. Lego Heart Keychain
by Etsy: HeartsforFriendship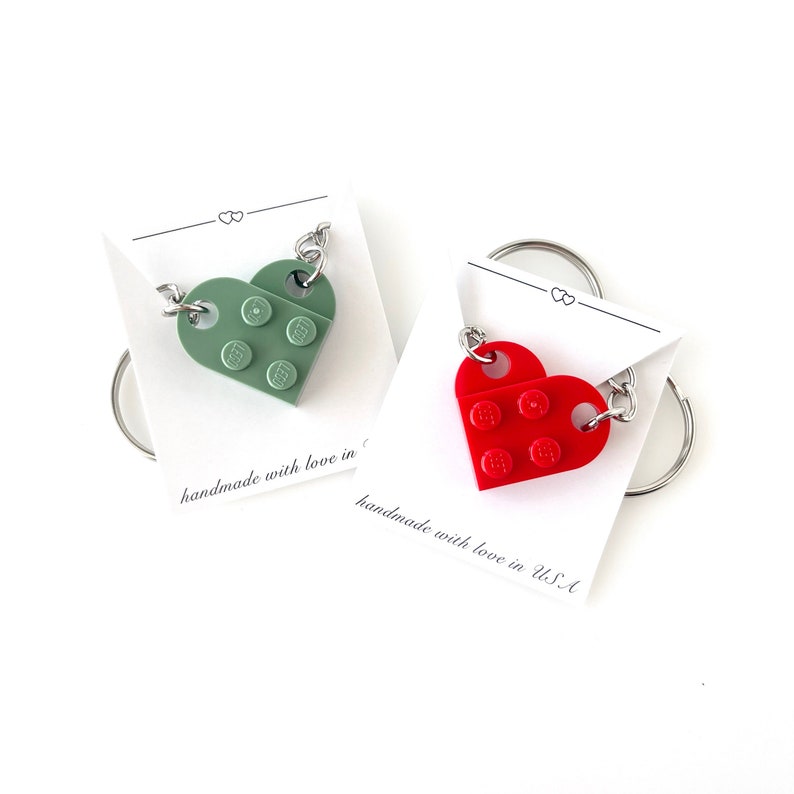 Perhaps the most unique gift on our list, these lego keychains are a fantastic gift for the playful couple! Wherever they go, it'll remind them they've got someone special who they fit with perfectly.
*Sigh* Doesn't everyone want that?
They come in sixteen colors- you can choose a different color for each half or keep them the same. Either way- adorable.
13. Embroidered Roman Numeral Sweatshirt
by Etsy: CustomTrendyGoods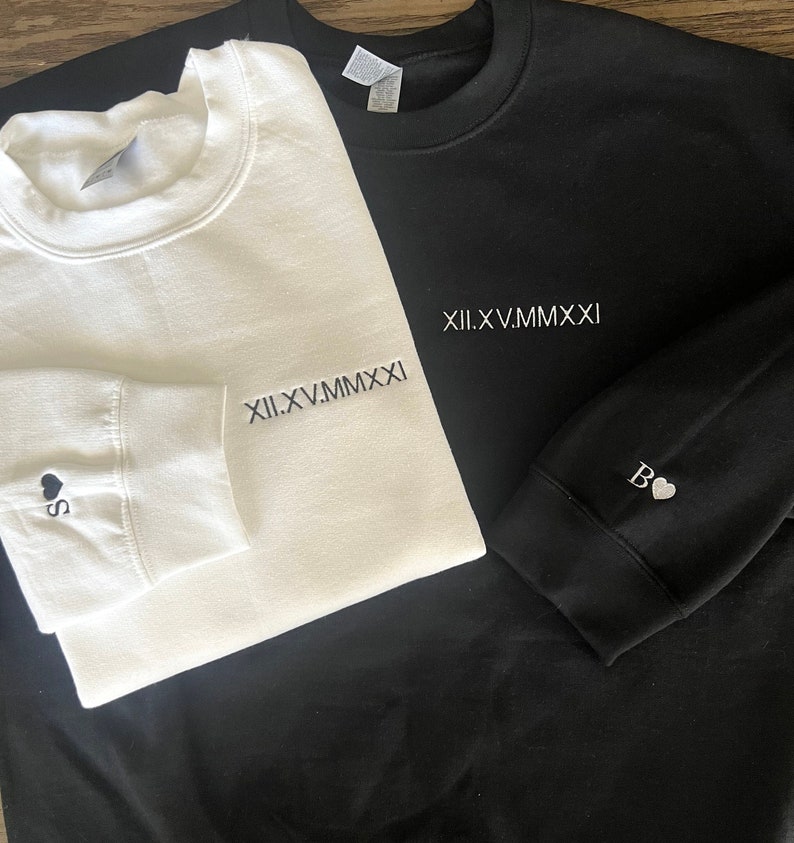 This is the perfect anniversary gift! And we should know, we've done tons of wedding anniversary gift posts.
(We take pride in our ability to come up with gifts for couples that make our readers look like gifting superheroes.)
These cozy poly/cotton fleece sweatshirts feature your fave couple's anniversary date (or any other meaningful date) hand-embroidered in roman numerals. Choose a hoodie or pullover- comes sizes small to 3XL in your choice of eleven cool colors.
14. My Favorite Pillows
by Etsy: JonleyGifts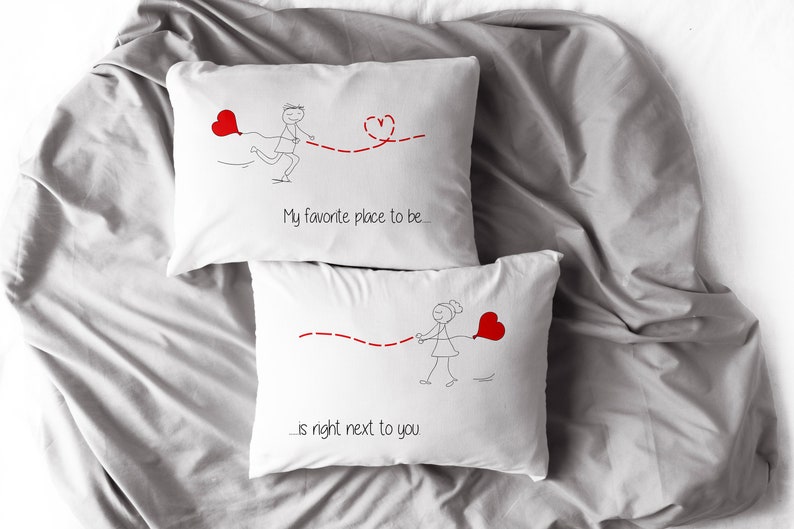 Awwwwwwe! So sweet! We all know that couple who seem to stay in love no matter what challenges life throws at them (like bath towel feuds)- these pillowcases are for them.
The best part? They're 100% made to be used like every other pillowcase on the bed. They're made from soft, durable microfiber with print that won't fade or crack, even in the washing machine. Long-lasting love deserves long-lasting pillows. And let's face it, they're 1000% better than a gift card.
Let's hear it for the couples stickin' together!
It's easy to get a little snarky about those couples who personify all the #relationshipgoals the rest of us aspire to. They're all about the (tasteful) PDA, spending quality time alone together, and matching his & hers gifts.
Of course, we're all about love around here (hence the name Love&Lavender), so we say more power to them! The world could certainly use more love in every form, so let's celebrate it wherever it lives. Especially if it lives in a house with a fancy whiskey set made for two.
Did you find this post useful? Then save THIS PIN to your Gift Ideas board for later!
Megan's wedding experience began over a decade ago when planning her dream ceremony. Since then, three kids have been added to the mix. Megan wholeheartedly embraces all things baby, childhood, and family. When she isn't writing or chasing little ones you can find her running, hiking, or reading.