34 Comfortable Wedding Shoes That Won't Hurt Your Feet, Style, or Budget!
On your wedding day, there will likely be lots of love, laughter, dancing…and standing on your feet! The big day calls for a pair of shoes that are big on comfort and style – without blowing your budget.
Whether you're looking for flats, sandals, heels, or something a little unorthodox, we've found the best comfortable wedding shoes that will help you look and feel fabulous.
After all, there's probably a lot you want to do and see on your honeymoon, and sore feet from uncomfortable wedding shoes can really put a damper on things.
In this article, you will find 34 examples of comfortable wedding shoes – high and low heels, sandals and flats, wedges and boots…
At the bottom of this article, you can find all the online shops where we found these comfortable shoes, as well as some shops that are known to specialize in high quality bridal footwear.
So, without further ado…let's go shopping!
Buying Considerations
Obviously, comfort is a top priority when considering what to look for in comfortable wedding shoes. However, just because you're wearing kicks that feel as supportive and lovely as your grandma's orthotics doesn't mean they have to look like them! Pay attention to these details when browsing for wedding day footwear.
Match the setting to the shoe. If you're going to be outdoors, check that your footwear can withstand the elements. Sand, soggy grass, and more can spell trouble for some shoe types.
Vibe check. If you have a high hemline that allows your footwear to be seen, make sure your shoes match your aesthetic and theme.
See that your heights coordinate. While a few brides can pull off any shoe with any dress length, we can't all be that lucky. Some heel heights just work better with certain dress lengths, like kitten heels or wedges with a tea-length gown.
Protection is important. Even though your shoes are comfy, make sure they offer protection too. This is especially true of flat sandals that could allow your feet to come into contact with hot sand, mud, or painful pebbles.
Now, down to the dancing. If you want to get your boogie on, check that your shoes can do more than just get you down the aisle. If they can't, consider buying a different pair for the ceremony.
Break those babies in! Break-in your shoes before attempting to wear them on your wedding day, even if they are the comfiest pair on the planet. Practice makes perfect.
Comfortable Wedding Sandals
1. Leather and Pearl Bridal Sandals
Simple leather straps adorned in a pattern of pearls make for a sophisticated but minimalist bridal shoe. Without a heel to contend with, your arches and ankles will be thanking you by the end of the night.
2. T-Strap Pearl Flat Sandals
These flat sandals are so feminine and cute! While their petite bows and delicate straps may be dainty, they're big on comfort thanks to their smooth soles. Oh, and did we mention the soles are embellished with a tiny rhinestone border?!
3. Astrid Flat Sandal
Just a hint of a heel will keep you comfortable and stable on your wedding day. Lustrous straps in metallic leather are elegant and secure.
4. Imagine Barefoot Sandals
What could be more comfortable than walking down a soft sandy or grassy aisle barefoot? If your free-spirited style calls for no shoes, try out these illusion sandals made from gorgeous rhinestones and sparkling chains.
5. Dressy Sandals
These are like your favorite pair of slides, just dressier! We love their modern look, complete with matte white leather and a fun oversized bow.
Comfortable Wedding Flats
7. Crystal Embellished Pointed Flats
Flats can be a little juvenile if you're not careful – but not these! This stunning pair of closed-toed shoes features a spray of crystals across their translucent sides and a refined pointed toe befitting a bride.
8. Ivory Lace Round-Toe Flats
It doesn't get any more graceful and feminine than these lace ballet flats. Everything about them just oozes classic chic, from their pointed toe to their column of dazzling pearls along the heel.
9. Blue Bridal Ballet Flats
Still on the hunt for your "something blue"? Check it off the list with these chic bridal flats. An open design is complemented by the plush cushioned footbeds and soft suede for an unbelievably comfortable fit.
10. Baily Flat
Jimmy Choo certainly knows how to make flats look refined and elegant. We're head over heels for their pointy-toe, pearl and rhinestone statement strap, and glittery color.
11. Crochet Lace Pointy-Toe Flats
Pointy-toe flats are so comfy, not only because they don't have a heel, but also because they let your feet breathe. A touch of white lace makes these shoes wedding aisle worthy.
12. Mary Jane Flats
Mary Jane goes modern and minimalist courtesy of a pointed-toe, classic white leather, and a bold strap. You'll feel confident and chic wearing these lovelies on your big day.
Comfortable Wedding Sneakers
14. Personalized Bridal Sneakers
A classic pick for the comfy bride, these converse-esque shoes can be outfitted with your future title, the word "bride", or any other short phrase. You also have the option of choosing the text color and the design of the laces.
(P.S. Our editor and her wife both wore these on their wedding day! They both highly recommend.)
15. Bridal Triple Decker Pearl Foxing
Nobody can knock your choice to wear sneakers when they look this beautiful. Triple decker sols are the perfect canvas for a plethora of pearl studs.
16. Flower Wreath Vans Slip-Ons
Vans let you proudly display your punk-rock side under your wedding dress, while a floral wreath adds a touch of traditional bridal romanticism. Slip them on and you'll be comfy and chic all day long.
17. Bright White Lace Low Top Converse
Something about the combination of the low top, the white lace, and the ribbon laces is so romantic! Modern and fun, this footwear choice would look fantastic with almost any wedding dress.
Comfortable Wedding Low Heels/Stack Heels
19. Embellished Low Heel Crystal Wedding Shoe
"Comfortable shoes for brides" and "heels" usually don't go hand in hand, but that isn't the case with these shoes from BellaBelle! The most elegant kitten heel is partnered with a mesh pointed upper encrusted in crystals, all in a lovely champagne color.
20. Pointed Toe Satin Block Heel
Block heel for the wedding day win! Ideal for outdoor weddings or beach weddings, this sturdy but stunning heel will keep you stable. Plus, with a bedazzled delicate strap and a pointed toe, you really can't go wrong.
21. Vintage Low Heel
The vintage flair of these heels is to die for! Its high heel support connects with the glamorous criss-cross straps that lead down to the lace-covered peep-toe. The memory-foam make these low heels a bridal dream come true!
(Note: these shoes are super popular! They've been in and out of stock lately, so be sure to check back often or reach out to the seller to see if you can snag a pair!)
22. Betsy Embroidered Kitten Heel
Are we the only ones getting Old Hollywood glamor vibes? We love the petite kitten heel, the scalloped lace pointed-toe, and the enchanting rhinestone ankle strap. They're also quite versatile, working with all types of wedding dresses from edgy to classic.
23. SB-MARI Champagne Stack Heel
If you're looking for glam and glitter, you can't pass up these stack-heeled stunners. Positively covered in rhinestones, they take sparkly to a whole new level. Opt for classic champagne or make a statement with a fiery red.
24. Satin Block Heel Sandal
We love how refined and sophisticated these heels are – even though they're technically sandals. A sturdy heel support panel pairs with a thin strap for comfortable yet breathable stability. In the front, the wide strap creates a lovely canvas for shimmering rhinestones crafted into an elegant pattern.
25. Knotted Bow Chic Heels
Chic and unique, these heels will have everyone talking. Their rounded heel design isn't something you see every day. Neither is their pleated fabric covering that ends in a fun knotted bow.
26. The Editor Slingback Heel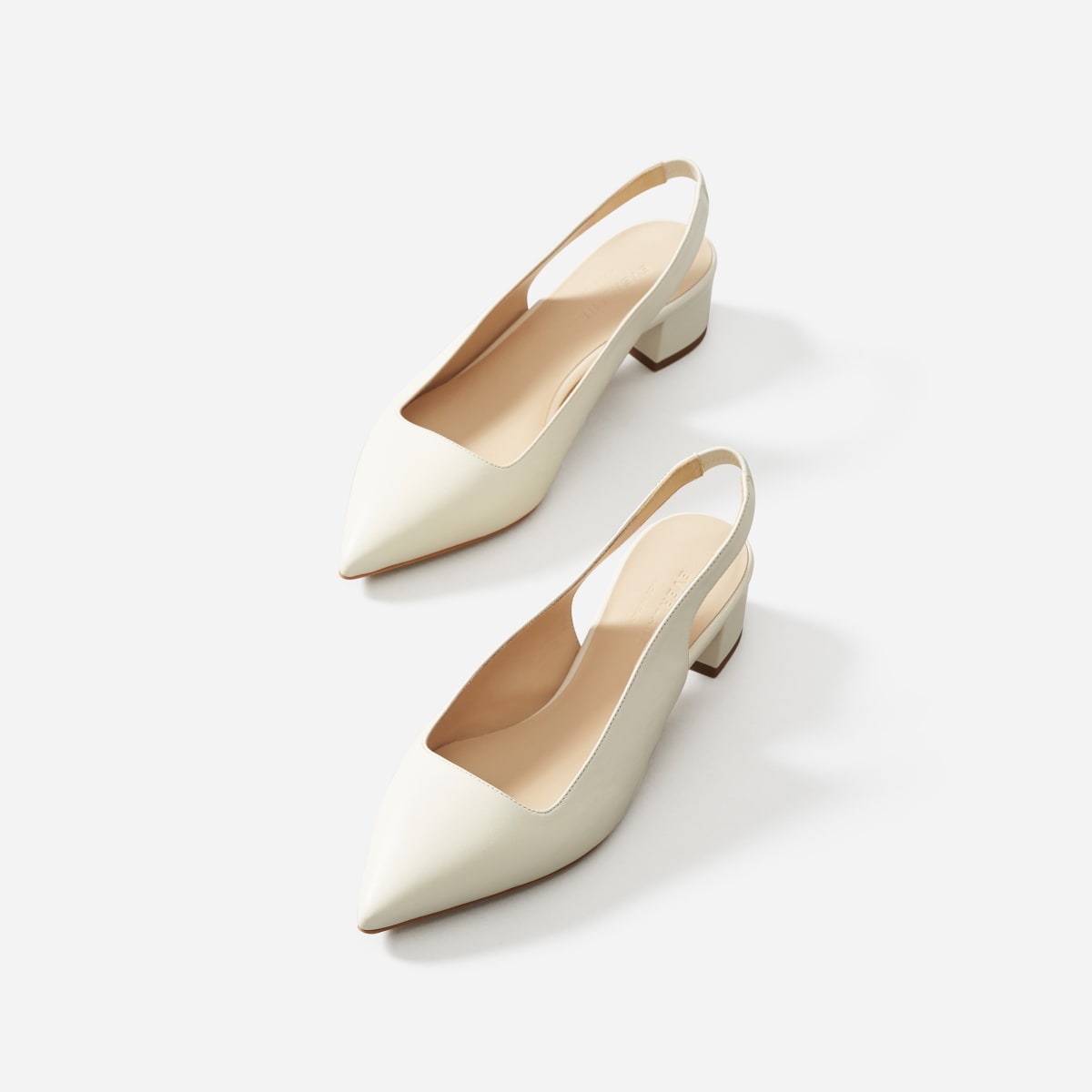 The shoes of my 90s fashion dreams are back in style! Glamorous enough to grace the halls of fashion magazines (hence the name "the Editor"), the Italian leather construction and wide straps make for a comfortable, walkable shoe for your wedding day.
Comfortable Wedding Wedges, Boots, and More
28. Ivory Bridal Wedges
Wedges are a wonderful choice if you want a fancier sandal for your wedding look. This pair in particular is a step above your typical cork wedge, constructed from gorgeous white leather with dainty crisscrossing ankle straps to complement the bold peep-toe.
29. Minimalistic Cork Wedges
These are your classic cork wedges, perfect for the laid-back bride or anyone getting married outdoors during the warmer season. Minimalistic double–straps, a sexy silhouette, and the traditional corked sole are held together by an oh-so-comfortable padded footbed.
30. Textured Wedge Espadrilles
Espadrilles are quintessentially casual and comfortable. We particularly love all the varied textures on this wedge version. Canvas toes, taupe ties, and a burlap-esque heel make for an interesting shoe that goes with everything from a pantsuit to a floor-length gown.
31. Rustic Booties
Yes, please! These booties would look fantastic with a wedding gown. We can picture them now, at a rustic outdoor ceremony, with a stunning bohemian dress. Ideal for the free-spirit bride who isn't afraid to show off her own personal flair.
32. Wedding Oxfords
Your betrothed isn't the only one who should get to be comfortable and look charming in a classic pair of Oxfords. Subtle feminine hints such as graceful crochet laces make these leather Oxfords quite romantic.
33. Sparkly Ankle Boots
Making a fashion statement shouldn't have to hurt. These sparkly, platinum ankle boots were made to let you strut your stuff down the catwalk – we mean, aisle. With a modern silhouette and block heel, these embellished beauties will ensure all eyes are on you!
Where To Buy
Have you decided what you want?
Here are the shops that inspired us to write this article. Popular models go in and out of stock and might not be available but there are plenty more to choose from!
magosisters: Unique, handcrafted sandals with exquisite details and finishes created from the best leather.
ForeverSoles: Amazing craftsmanship quality and uniqueness, raving customer reviews and worth every penny.
YuliaNadeeva: Handmade wedding shoes – gorgeous design and fit beautifully.
CreatureCool: Personalized bridal sneakers, add some excitement and individuality to your sneakers.
BlvdCustom: One-of-a-kind, custom TOMS, Converse and Vans shoes.
PrincessPumps: High-quality, handcrafted sparkly shoes made with sequins, glitter, and rhinestones.
BellaBelleShoe: Wedding sandals, beach sandals, and boutique sandals. Hand-made, hand0cut, hand-sewn, designed to be comfortable and to last.
ChicFeetDesigns: Classic and casual, great for your wedding or your summer dress.
kaileep: Amazing "glitz and glam" fashion for both adults and children.
BHLDN: Wedding heels that are as beautiful as they are comfortable.
David's Bridal: Shop the latest 2022 shoe trends & styles – designer heels, shoes, pumps in a variety of colors & designs today. Many wedding shoes uare nder $50.
STUART WEITZMAN: timeless glamorous silhouettes with many brand-new, on-trend models.
Dr. Martens: 1460 women's Pascal Virginia leather boots.
NET-A-PORTER: show-stopping heels, luxury designer brands.
Jimmy Choo: Handmade, exclusive, expensive. If you don't own a pair of Jimmy Choo, this is your chance. From lace sandals and crystal-embellished bridal flats to pearl sneakers and elegant low or high heeled pumps in ivory or white satin.
Bella Belle: Made with a special mesh, these shoes give your feet some air to breathe, stretches, and molds to the shape of your feet. Super comfy wedding shoes that look stunning.
Comfortable Wedding Shoes FAQ
Should I choose my wedding shoes before or after my dress?
It's usually a good idea to choose your shoes after your dress, that way you can make sure things like the aesthetic and height match. But sometimes you can't pass up a phenomenal pair of shoes! If you do pick your shoes first, just know that it might slightly limit your dress options.
Can I wear sneakers under my wedding dress?
Yes, and some of us gals here have actually done it! It was blessedly comfortable and insanely cute, if we do say so ourselves.
Can I wear sandals as a bride?
While we wouldn't go with your trusty pair of old flip flops, you can certainly wear sandals as a bride. There are a few exceptions here – for example, they may not go over so well at a traditional Catholic ceremony in the middle of winter. Thankfully, the wide variety of available styles means there is a sandal for almost every wedding venue.
Do my wedding shoes have to be white?
Nope! We are particularly fond of the navy, baby blue, or cerulean options that both add interest to your wedding ensemble and check off the traditional "something blue" requirement.
Can I be barefoot at my wedding?
As long as you're comfortable and confident, barefoot is an acceptable wedding footwear choice! If you don't want to go entirely bare, you can opt for barefoot sandals that give the illusion of footwear with their elegant crystals and chains.
Comfy – But Make It Chic
"What a girl wants, what a girl needs…is to feel commmffyyy!"
Excuse us while we take a few liberties with a classic Christina Aguilera ballad. But it's true! You don't want to be miserable on your wedding day due to painful feet, nor do you want to risk tripping down the aisle in the name of fashion.
We're confident that the shoes on this list are both comfortable and chic, giving you the confidence to waltz, run, skip, or do whatever you please down the aisle.
Did you find this post useful? Would you like to get back to it later? Save THIS PIN below to your Wedding Planning board!
Megan's wedding experience began over a decade ago when planning her dream ceremony. Since then, three kids have been added to the mix. Megan wholeheartedly embraces all things baby, childhood, and family. When she isn't writing or chasing little ones you can find her running, hiking, or reading.