6 Luxurious Laser Cut Wedding Invitation Designs
Looking for an alternative to plain envelopes and invitations? An elegant and unique option, laser cut wedding invitations steal the show with their delicate details and ability to be customized.
Thanks to the increasing availability of laser cutting equipment, stationery vendors the world over are beginning to expand their inventory to include laser cut wedding invitations.
This stylish kind of invitation is created by uploading a design into a computer, which then instructs the laser cutter where to aim and how quickly to move. Moving quicker creates a burn whereas moving slower creates a cut. This allows an enormous amount of flexibility in choosing materials, as any design can be paired with different kinds of paper.
Affordable Laser Cut Wedding Invites
It's no secret that wedding invitations can be expensive. However, laser cut invitations can be an affordable alternative to traditional invitation designs and decorations while still providing a premium product.
There are thousands of laser cut invitation designs to choose from. Below is our list of favorite picks (mainly from Etsy). In compiling the list, we selected invitations for either their original design, stunning execution of a classic, or simply their ability to render us speechless!
1. Navy Blue Laser Cut Invite
If you already have something old, something new, and something borrowed, but are still looking for that something blue check out these wedding invitations!
A classic navy color, these handmade laser cut invitations are the whole package. A delicate lace gatefold opens to reveal the details of your upcoming nuptials printed on a simple white card. The simplicity of plain white stationary only serves to complement the intricate navy lace, culminating in a tasteful look that accentuates rather than overwhelms. To keep from being too plain, however, the invitation envelope is shimmering ivory to match the belly band, delivering a final pop of perfect glitz to your invitations.
Each invitation comes with a double layered response card and ivory shimmer envelope. You can add a gold shimmer belly band with your initials for $1.25.
2. Wooden Tree Laser Cut Invite & RSVP
Like to buck tradition? Delight your friends and family with wedding invitations made from wood!
This design prominently displays an oak tree — a symbol of strength and knowledge.
Cut from 1/16th inch cherry wood, these invitations are a testament to detail. The elaborate engravings of leaves and bark would be impossible on ordinary paper invitations, but by changing the medium from paper to wood each line and curve is rendered in stunning detail. Attached to the wood, is a creamy kraft paper (environmentally friendly and designed to be tear-resistant) just waiting to be embossed with your dates.
The rustic look is completed by a twine and wooden heart charm tying it all together. Included in the purchase are paper RSVP cards (which can be customized or made into a similar laser cut wood through conversation with the seller) and envelopes. It goes without saying that you may want to hand deliver these wood wedding invites. 😉
3. White Shimmer Laser Cut Invite
Looking for something elegant and refined? Patterned with a white delicate lace and embellished with real foil in one of three colors, these invitations are about as luxurious as you can get!
You can order the full suite, which comes with an RSVP card and reply envelope as well as a Wishing Well/Details card or you can simply order the invitations – perfect if you're using an online RSVP system and wedding website to share the details of your big day.
Purchase with or without typography, allowing for hand done calligraphy if you so choose.
4. Pearl Foil Laser Cut Suite
By Etsy: Cartalia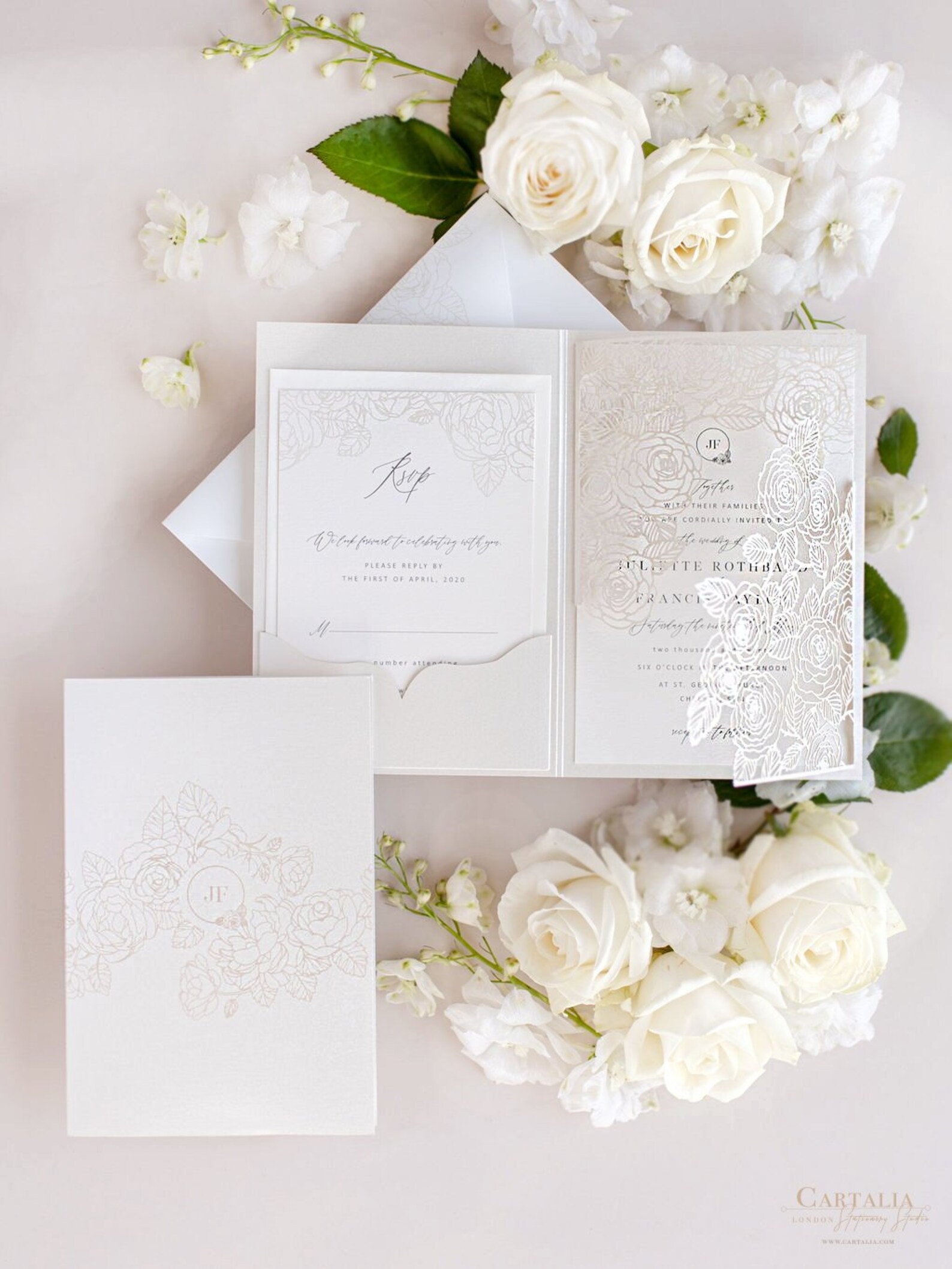 Glamorous and classy can sometimes be a difficult combination. These pearl foil invitations pull it off without a hitch!
An intricate rose patterned overlay will let your monogram peek through. There are other colors to choose from, but we just love the simple elegance of the pearl.To tie the look all together, add an additional Details card.
These invitations come full assembled with the invitation, monogram printed envelope, RSVP card, envelope, and pocket.
5. Floral Laser Cut Wedding Invitation
By Cartalia
For those searching for wedding invitations to match the bouquet, these invitations rise to the occasion. Featuring delicate, embossed roses and available for purchase in a variety of metallic colors such as old gold, royal blue, mars red, graphite white, and pink to name a few.
All of your pertinent wedding details are printed on white, pearlized Italian paper (other colors are available upon request) and slipped inside a matching white envelope.
6. Black Laser Cut Invitation
Black wedding invitations can be tricky to get right, especially if your wedding theme is not Gothic. With just the perfect hint of dramatic flair, these black laser cut invitations stand out amongst the crowd.
Printed on thick cardstock, the floral laser cut detailing provides a stunning contrast to the white background, while the gold mirror elevates the whole look. These chic invitations are guaranteed to catch eyes when they arrive in the mail.
Custom Laser Cut Invitations
For those looking to order bespoke wedding invitations, laser cut can still offer a solution. Vendors on websites like Etsy are open to making changes to their designs. Or, sometimes a vendor will create fully customized invitations. Contact the vendor directly and see if they are willing to work with you one-on-one.
If you are committed to the idea of cutting your own designs into invitations, know that laser cutters can be quite expensive. However, search around and you may find a specialty printing or graphics shop that is willing to work with you to bring your vision to life.
TIP: Save THIS PIN to your Wedding Invitation board on Pinterest and get back to this post later.