21 Personalized Wedding Favors (They'll Actually Use!)
We feel there are a few things to keep in mind, however, when giving personalized wedding favors. The most obvious being: Is it something they'll want to receive?
Commemorating your big day is a group effort, and most people want to give back to those who witness the vows, cry during the best man's speech, and do the electric slide well into the wee hours of the night.
These are the people who will contribute in their own beautiful ways to making your wedding day extra special, so choosing tasteful, personalized wedding favors your guests can actually use is a great way to let them know you appreciate them.
Tips for Personalizing Wedding Favors
When done well, personalized gifts are a great token of affection commemorating your magical day.
Everyone's got their own style, and that's a great thing. If yours is a favor that's super personalized with pictures of the bride and groom along with names and dates and such, have at it.
However, we very humbly suggest (particularly if you're looking at keepsake favors) that not everyone may want it!
For instance, in our list we recommended a cozy fleece blanket. Read on, you'll love them. Very cool if you keep it low-key, but if a whole wedding announcement is printed on it, it may very well end up in the back of a closet never to be seen again.
It's pretty simple: when attending a wedding ask yourself what you would want to receive as a favor.
Top Personalized Favor Picks
Here are some things that we'd love to receive as a wedding favor, and we think you'll like them too.
Think Local. Whether you're getting married in your hometown or throwing a fabulous destination wedding, gifts with local flair are great if you can swing it.
1. Honey-Themed Favors
Honey-themed favors are taking off these days, which is why we published a whole article dedicated to favors featuring honey, along with some thoughtful gestures for the bees that make it.
Why not take it a step further and give local honey?
2. Beach-Friendly Favors
Many people are hosting outdoor weddings, and some of those will undoubtedly be held at the beach. If you're lucky enough to host one (or be invited to one) these great beach-friendly favors are useful.
3. Seeds & Herbs
Regional seeds for herbs, veggies, fruits, or flowers are easy to grow. Present them in cute, personalizable tins and you've got a lovely favor for everyone to take home on their way out.
Edible Favors – Treat your guests to something special they'll love to eat! Chances are, by the time they leave the reception they'll be stuffed. Make sure you package your treats in ways that are easy to take home.
4. Donuts
Donuts! Your guests will love to wake up the next morning with a donut and coffee, and these fabulous 'holy matrimony' personalizable boxes are perfect for pastry transport.
5. Cupcakes
Cupcakes! If donuts won't do, or if you can get a better deal from your baker on some fancy cupcakes (preferably that match your cake), you can put them in these adorable mini cake stands. Attach personalized tags, and you've got a beautiful favor-to-go.
6. Mini Champagne Bottles
Gift mini champagne bottles, or airplane bottles of fancy aperitifs like St. Germain, or our favorite- lavender. You can usually buy these cheaper in bulk from your local wine and liquors store, then check out Etsy's seemingly never ending selection of great wedding favor tags to attach and personalize.
7. Oil & Vinegar
Not sure if alcohol favors are the way to go? Give them delicate bottles of oil and vinegar. These are so cool, and there are plenty of options to choose from, including infused varieties.
8. Almonds
A traditional Italian wedding staple, you really can't go wrong with Jordan Almonds. Buy them in pastels (customized to your color theme), or crisp white. Package them up in personalized tins, boxes, etc. We especially loved these little bags.
9. Playing Cards
If you're going to go non-food, consider selecting something your guest will realistically love to use, or display.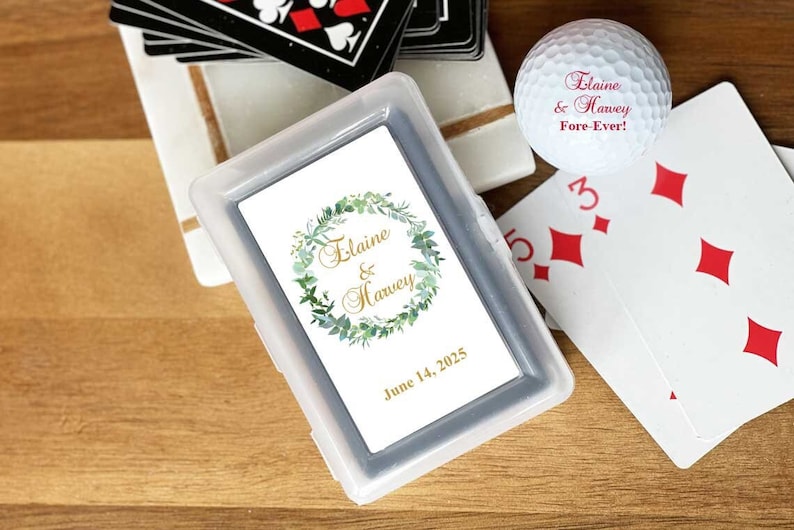 Why not gift favor playing cards! They're so useful — everyone has a deck of playing cards for candlelight games when the power goes out, right? And, you'll hear more than a couple of your guests exclaim "Oh wow, what a neat idea!"
We thought these were neat, but there are a ton of options out there for designs and customizations. Besides, when your fam is worn out, but the party's still raging, a mean game of gin rummy or Texas hold 'em is always a blast.
10. Birdseed
Birdseed is popular to throw over the bride and groom. As such, birdseed ornaments are becoming popular take-home favors to attract local songbirds. They come in all kinds of creative forms, and we really liked these simple hearts.
11. Soaps or Candles
Some may say the ubiquitous fancy soaps or candles are cliche, but we say they're classics that will never go out of style. Besides, everyone can use a fancy soap for the guest bathroom or a pretty candle for the coffee table.
12. Blankets
A fleece blanket tastefully embroidered with your initials and the date very small in the corner makes a great gift. Especially if it gets chillier as the evening goes on, your guests will love to grab one, cozy up with a glass of wine, and watch your uncle Dave get crazy on the dance floor.
13. Tea Towels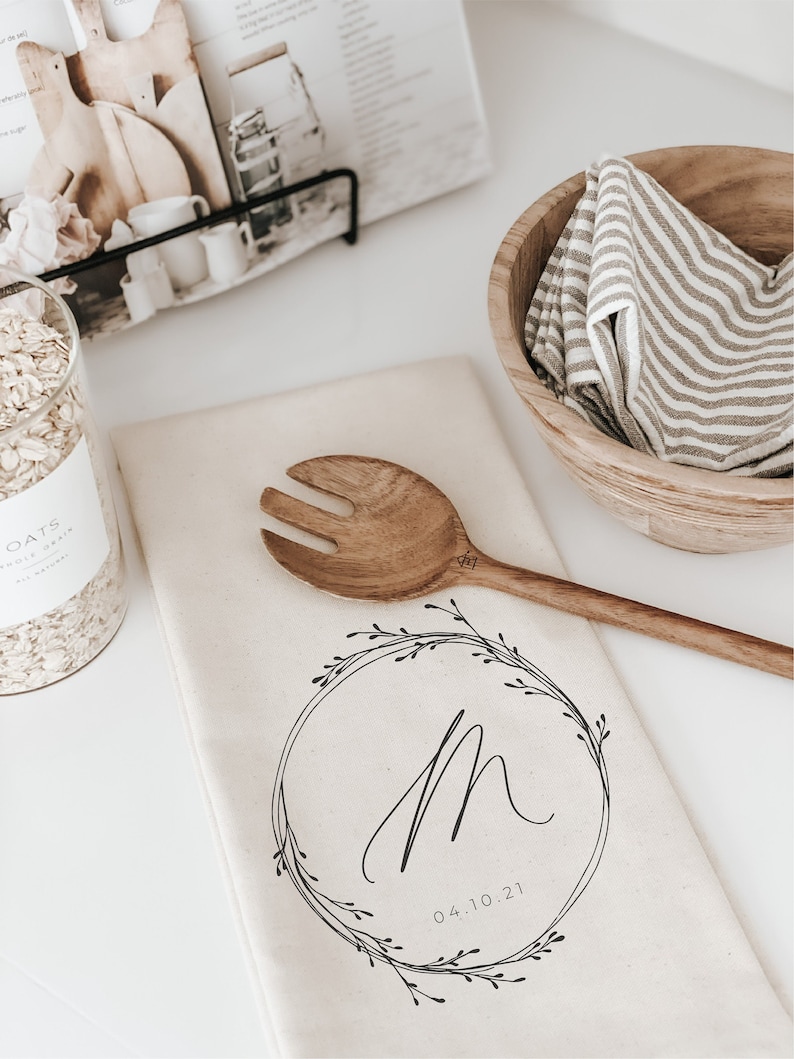 Tea towels are useful, and you can integrate them into your place settings. Keep it simple, maybe just the date of your wedding and a short, lovely quote.
14. Candy Jar Favors
These sweet wedding favors are so beautiful that guests will find themselves wondering if they are actual favors or just part of the scenery! Available in pink or white, these miniature candy jars are topped with a forever flower and filled with sweet sugar candies. My favorite feature are the personalized tags, which gives these glamorous looking pieces a rustic and romantic feel.
15. Personalized Gift Boxes
Elegant and versatile, you can't go wrong with these beautiful gift boxes by WeddingUkraine. This well-established Etsy seller offers eight different box color option with a seemingly endless list of possible ribbon colors, making these an easy choice for any type of wedding.
16. Personalized Mason Jars
Your guests will adore these handled mason jars adorned with the stylish design of your choice. These are a great way to encourage guests to stay hydrated during your outdoor summer wedding and will look just as stylish sitting on their kitchen table or office desk as their go-to drinking glass.
17. Personalized Shot Glasses
The party doesn't have to stop after the reception! Send your guests off (in a taxi, of course) with these beautiful shot glasses from ReidsEngravables. There are 12 pre-made designes available and if you can't find what you're looking for they'll work with you to create something truly one of a kind.
18. Personalized Caramel Popcorn
by Etsy: NNKPopcornBag
Edible wedding favors are not only a cute way to make your wedding stand out during wedding season, they are also a favorite among guests! These decadent bags of caramel popcorn come with a customizable label that you can personalize with any text or design, making them truly one of a kind. Guests will just love snacking on these treats inbetween late night drinks, and these are the perfect snack for when your little niece or nephew starts getting restless!
19. Personalized Wine Stopper
by Allincork
Not only are these engraved wine stoppers adorable, they are incredibly practical and will be used over and over again long after the big day! Etsy seller Allincork offers 25 different designs so you're bound to find one that fits your theme and their small size makes them perfect for guests who have to travel a significant distance home. I love the idea that your wedding day could soon become synonymous with your guests' greatest celebrations, as they'll reach for this every time they pop open their favorite bottle of wine!
20. Personalized Bookmarks
Made with Alder wood and engraved to perfection, these rustic bookmarks are perfect for the outdoorsy couple who can't wait to lay in bed reading together for the rest of their lives. These bookmarks give a sweet nod to the couples' passion for book and will be used and enjoyed by guests of every age!
21. Personalized Match Box
by ForYourParty
These monogramed match boxes are simple, sleek, and as practical as it gets! Perfect for lighting candle, incense or the occasional celebratory cigar, this is a wedding favor that every guest will appreciate.
NOTE: If you want to include a quote on your blankets or tea towels, be sure to be considerate when thinking about what to say. (As much as you can, anyway. You can't please all the people all the time.)
Keep in mind, not everyone is married or is in a place where they have someone special in their lives, so try to stay as general and objective as possible.
For instance:
"To love or have loved, that is enough. Ask nothing further. There is no other pearl to be found in the dark folds of life."

-Victor Hugo, Les Misérables
Gorgeous, right? But maaaybe a little… dark. if you've got a guest who isn't having the best of luck with love at the moment, it's not exactly a message full of hope and sunshine. Of course, it is from Les Misérables, so what do you expect, right?
Anyway, we digress.
Here are some we think are pretty neat, and that won't make your single bridesmaids want to burn it whenever they see it hanging in the kitchen:
"You know you're in love when you can't fall asleep because reality is finally better than your dreams."

-Dr. Seuss
"Life without love is like a tree without blossoms or fruit."

-Khalil Gibran
If you're a particularly casual couple, you could get funny. Especially cool if you print your sentiment in calligraphy, you could say something like:
"I went to (your names here)'s wedding, and all I got was this lousy tea towel."
And finally, if you want to be timely (and you don't think it'll land sideways with your guests):
"With the whole world crumbling, we pick this time to fall in love."

-Ilsa in Casablanca
A Few Final Favor Words
The ideas we've listed here are merely suggestions. Trust us, you'll find yourself down a serious wedding favor rabbit hole once you start shopping around, and you'll probably run across all kinds of things you love.
Do us a favor (ha! puns!) and leave a comment about your unique wedding favors. If you've got pics, even better! We'd love to hear what you came up with for your special day…
Remember, if it all becomes too much, wedding favors aren't a life or death situation. They're always appreciated, but never required. Happy favor shopping!
Did you find this post useful? Would you like to get back to it later? Save THIS PIN below to your Wedding Favors board!
Despite her dreamy wedding blogger lifestyle, Meredith's day job is running ClassicVeils.com and a full-time mom to an active toddler. If she could, Meredith would spend her days taking cruises, helping animals in need, and watching Big Brother!