10 Succulent Wedding Favor Ideas to Swoon Over!
Deciding what to gift your guests as a wedding favor can be a challenge. After all, everyone has different interests and styles. Considered a staple of swoon worthy weddings for years now the succulent-inspired favor could be the favor to win over all your guests.
Colorful, pretty, and unique, these mini plants are a lovely way to incorporate nature into your big day. And, guests can treasure these wee wedding favors long after your big day.
Succulent Wedding Favors
What is a Succulent?
You've probably heard the term 'succulent' used to describe certain plants, but what exactly is a succulent?
According to Wikipedia, a succulent is a plant "with parts that are thickened, fleshy and engorged, usually to retain water in arid climates or soil conditions."
Over 25 plant families include succulent varieties, making for a wide array of succulent plants. Examples of succulents include most cacti, the jade plant, burro's tail, and aloe vera, to name but a few. Oftentimes succulents are grown for ornamental purposes, though some have more practical properties. For example, the aloe vera plant is widely used to help heal wounds and relieve sunburn pain.
Why Gift Succulent Favors?
Love the idea of succulents, but not sure whether they're the ideal thank-you gift for your wedding guests? Here are a few great reasons to add succulent-inspire favors to your big day:
Succulents are suitable for any climate and are low maintenance. Many succulent varieties can be grown indoors, making them a perfect gift no matter what climate your guests live in. Notably, succulents are also great at storing water within their leaves and other plant parts, so they require less vigilant watering than many other house plants.
They emit oxygen 24 hours a day. Did you know that most plants actually release carbon dioxide during nighttime? That's because photosynthesis isn't possible when the sun is absent. Succulents, along with a few other plants, are the exception to the rule. They continue to produce oxygen throughout the night. The gift of a succulent is a breath of fresh air!
Succulents can suit any aesthetic. Whether you're gearing for an elegant to do, a rustic theme, something on the whimsical side, or a modern affair, a succulent favor will fit right in. It's all in how you dress it up or down!
Succulents are kid-friendly: Sometimes children can get forgotten when it comes down to deciding on an appropriate wedding favors. Succulents are an equally suitable gift for young and old! Their beautiful colors and stuctures, combined with their low maintenance needs make them a great first plant for kids to call their own.
1. Personalized Mini Box for Succulents
by All In Cork
Whether you're planning a rustic wedding or something a bit edgier, these unique mini succulent crates will be treasured by your guests. Not only can you personalize them with your wedding details, you can also add a magnet if you wish! The only thing left to do is plant each with a cute succulent before the big day – a perfect opportunity to get your bridesmaids together for an afternoon of fun (bring out a bottle of bubbly for extra fun!).
2. Succulent Soap Favor
Not everyone has a green thumb! Divine soap favors (like the ones pictured) are the perfect way to pay homage to your love of succulents, while gifting your guests something they can use every day of the week.
Scented in fresh rose or lavender, and tied off with natural kraft raffia and a beautiful resin succulent, these favors are perfect for an elegant or rustic wedding.
3. Succulents in Rustic Wood Planters
If you're looking for a favor that will illicit 'wows' and 'awwws' from your guests, look no futher. These earthly wood planters are as gorgeous and unique as the succulents they hold. A relatively low price point means you get great value for money, especially since the succulent cuts and soil are included with the planters.
Note: Make sure you carve out some time as some assembly is required for these favors.
4. Biodegradable Succulent Pots (DIY Option)
For the eco-conscious couple and those who simply love a natural look, these simple-yet-sweet succulent pots will win you over. Made from recycled pulp and 100% biodegradable, they'll put a smile on every Earth-loving guests' face. Get your DIY gardeners' hat on, round up some pals (or your beau) and fill these pots with soil and succulents! Add an extra personal touch with customized stickers.
5. Potted Succulents (Splurge vs. Steal)
Have the budget to splurge on your favors? These gorgeous burlap-wrapped succulents will arrive fully assembled and ready to take your guests' breath away!
If you love a good DIY project and want to save some money for other elements of your wedding, you can create your own stunning succulent favors.

Start by sourcing the succulents themselves, then come up with creative ways to make them stand out. Perhaps you're running with a gold color scheme. Wrap the pots in gold leaf foil for a glam look. Or, if it's an elegant theme you're after, source some vintage lace material (check with family, friends and at thrift stores), and wrap each succulent pot with a ribbon of lace.

For a happy middle ground between 'Splurge' and 'Steal', order these succulent sleeve wraps and your DIY favors will be done in no time!
6. Succulent Seed Packets
Seed packets have been gaining favor (pun intended) with many brides and grooms in recent years. Light on the planet and full of promise for a future filled with beautiful little plants, these succulent seed packets are a thoughtful way to celebrate the magic of love. Since they can be planted indoors, they're also great for northern climates and guests who don't have outdoor space for plants.
7. Succulent Shaped Soaps
I love it when a wedding favor is equal parts pretty and practical, like these succulent soap favors. If your succulent obsession is well-known amongst your guests, this is a lovely way to pay homage to your obssession while providing your guests with something they'll be able to use.
Choose from a large array of scents and personalize your glycerin soap favors with a sweet message or your wedding details.
8. Succulent Magnet Favors (made from felt)
Want to go all out with your wedding favors? These felt succulent magnets are a luxurious and unique way to say 'thank-you' to guests for attending your big day. They'll add to the lush decor at your wedding AND be treasured on many-a-fridge for years to come! As an added bonus, your guests won't have to worry about watering this little succulent.
9. Cactus Succulent Tea Lights
By Aixiang
Set the stage for future romance with these super-affordable, cute favors. Next time they want to create ambience at home, they'll be silently thanking you as they light their succulent tea light candles.

Tip: Order up extra candles and scatter them around your reception venue to add extra ambience to your big day as well!
10. Faux Succulent Wine Cork Favors
by Etsy: TheLovelySuccubent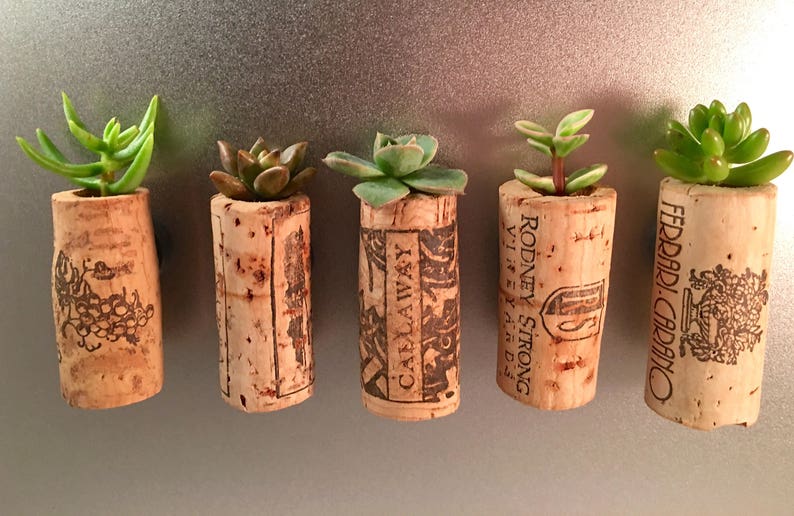 Here's another smart twist on the faux succulent favor. Couples hosting a vineyard wedding or those who love wine and plants will adore these cork cuties.
These ready-to-gift favors aren't just stylish, they're also practical, thanks to the magnet on each. Include a photo from your wedding when you send your thank-you notes out, and they'll be sure to put their succulent cork magnet to good use!
Once you've selected your succulent wedding favors, you can sit back and breath easy, knowing they'll fall in love with their thank-you gifts! As an added bonus, your wedding will look even MORE enchanting filled with succulent plants.
?Did you find this post useful? Then save THIS PIN below to your Wedding Planning board for later!????