13 Tasteful Wedding Accommodation Cards for Stylish Lodging Details!
If you are knee-deep in wedding planning, you may have run accross the term accommodation card.
In which case, you can skip straight to our lineup of cards we're obsessing over. Go find your favorite and get on with your wedding stationary assembly!
However, if you have just started planning, you may wonder, "what is an accommodation card?"
Don't worry – you aren't alone! You always hear about the save the date cards and the gift registry invites, but when you start really getting into the nitty-gritty of wedding planning you discover all of the optional inserts and additions. Did you know that a wedding invitation suite can have nine different components?
Let's take a closer look at just one of those items for now: the accommodation card. We'll briefly go over what it is and why you may want to send one. Then we'll show you our faves so you can get a better idea of why these cards belong in your wedding invitations.
What Are Accommodation Cards?
I feel like accommodation cards are how you know you have reached the wedding planning big leagues. For those who haven't planned out the intricate details of their wedding stationery yet, let's talk a bit about accommodation cards.
Accommodation cards are sometimes referred to as hotel cards. As their name implies, these cards inform your guests about lodging and accommodation information. They are one of the many inserts included in your wedding invitation envelope. An accommodation card is typically sent to every wedding guest.
There are a few reasons why you may want to send accommodation cards. If you have family and friends flying in from out of town, they will likely need somewhere to stay. That is, unless you plan on a Father of the Bride backyard-style wedding where you host your whole family!
Accommodation cards can let guests know of what local hotels, bed and breakfast, and other lodging opportunities are available.
These cards are particularly helpful if you have reserved a hotel room block in a specific locale for your out of town guests. Placing this detailed information on a card can help those who are not tech-savvy figure out which rooms to select so that they are with the wedding party. We got you, grandma!
Wedding accommodation cards are also very handy if your reception will be held at a hotel or resort where you want your guests to stay. It's so much easier if you can keep everything under the same roof, and these cards will help you disseminate that information to all of your guests!
To make it easier for those who you invite, try to include all pertinent information on your accommodation insert card. You should try to list all of the following information on your accommodation card, if relevant:
The hotel and its address,
the block of rooms reserved (may include a group code or group name),
the date the rooms must be reserved by,
the hotel's website and/or phone number,
possibly transportation info, if a shuttle is provided.
There is no need to include a direct link to the hotels booking page; this can look complicated and messy. Additionally, don't feel that you need to give details on the climate, flights, or other minor details. Accommodation cards are a simple way to let your guests know that you care about them flying in for your wedding day and have made plans accordingly.
Accommodation Cards We Love
Now that you know all of the ins and outs of accommodation cards, check out some of our favorites before your guests check-in!
1. Abstract Accommodation Card
by Etsy: thepaperedwedding
These gorgeous cards won't clash with your existing invitation design. They're simple yet elegant and the easy-to-read font is ideal for a variety of guests. Choose from a digital file or printed cards. These are not customizable, but matching invitation items are available.
2. Fall Wedding Accommodation Card
by Etsy: BlushPrintDesign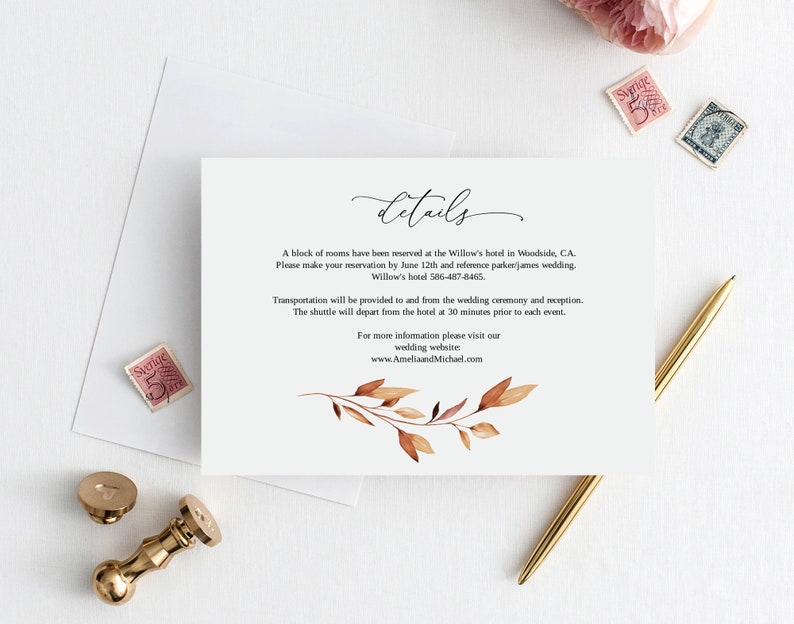 If you're planning an autumn wedding, it's hard to go wrong with these fall wedding accommodation cards. They have ample space for all your details. I love that they're designed with tasteful embellishments that won't detract from what's really important: the where, when, and how. Available as a digital download.
3. There Will Be A Party Accommodation Card
by Minted
I am all for this cheeky card. Bold font reads "you might want to know this", angling for your guests' attention as they wade through all your other invite inserts. It's straightforward, and I love it! You can choose your color theme, silhouette, and paper type.
4. Floral Accommodation Card
by Etsy: thepaperedwedding
Floral is always on trend for weddings. The beautiful watercolor-esque ivory blooms with a hint of pink will complement any invitation suite. There is lots of room to fit all your accommodation info, bordered by an elegant hand-lettered font. Choose from a digital file or printed paper inserts.
5. Splendid Ink Accommodation Cards
by Minted
I adore these inky, watercolor floral cards. The artwork is stunning and stands out splendidly against the stark white background. With nearly the entire card available for accommodation details, you can effortlessly fit lodging, transportation, and reservation info. Choose from four color themes and eight foil colors.
6. Gilded Where to Stay Accommodation Card
by Minted
This accommodation card looks so inviting, how could you resist staying over for the wedding? Sparkling foil-pressed foliage encircles where guests can stay and what rooms are reserved. It suits most wedding themes and will make a lovely addition to your invitation suite.
Select from eight color themes and eight foil colors.
7. Monochromatic Accommodation Card
by Etsy: CrossvineDesigns
If you require bold, no-nonsense accommodation cards then you'll love this monochromatic option. A stark white background illuminates the details of your lodging options, printed in modern typography. The unique layout and horizontal design will help capture your guests' attention so these important details won't be missed!
Available as a digital download.
8. Guest Info Accommodation Card
by Minted
Sometimes, less is more. Especially if you want to convey your accommodation details as simply as possible to avoid confusion. These guest info cards really do the trick. A minimalist design featuring modern text, no decorations, and a stand-out title offers guests everything they need and nothing they don't. Available in eight different color themes.
9. Pink Minimalist Accommodation Card
by Etsy: RobinWeddings
Minimalist, modern, and in a cute blushing pink, these elegant cards are ideal for trendy brides. The flat background and bold typography are very attractive, but you can edit the color, details, and even add an image as you see fit. As an instant download, it is fully customizable and pairs seamlessly with their other invitations and inserts.
10. Where to Stay Accommodation Card
by Etsy: ConnieandJoan
If you want to be able to completely personalize your accommodation cards, opt for these where-to-stay inserts. With this digital download, you can change the wording, font, line, and character spacing, add images or photos and customize the text and objects.
The delightful "where to stay" image heading in a gorgeous script is the only constant that cannot be altered, but why would you want to? It's stunning!
11. Rose Gold Accommodation Card
by Etsy: JuicyPaperie
Rose gold lettering on a white background just oozes glamour. The "faux" foil texture is beautiful and pairs nicely with the casual font and hand-lettered script. Don't let any of your details get lost – capture your guests' attention with this elegant card.
12. Gold Accommodation Card
by Etsy: ViolaMirabilisDesign
Classy and sophisticated, scrawled gold script lets guests know that this card features important accommodation info. You have an expansive area to outfit this card with all of your pertinent details. It won't throw off your theme, making it ideal for those who have already created their invitation suite and need to add a last-minute insert!
This digital download is completely customizable and immediately available.
13. Minimalist Accommodation Card
by Etsy: DIYEventTemplates
I love this sweet little insert. The accommodation header looks as if it was freshly penned in a gorgeous hand-script. Complemented by modern bold font, your guests will find out everything they need to know about your wedding lodgings and transport. It's understated and tasteful, perfect for minimalist brides. This digital download file can be edited and is instantly downloadable.
Don't Make Guests Ask. Include An Accommodation Card!
Many brides and grooms know that traveling for a wedding is a big ask. They truly want to make it as easy as possible for their guests. A simple way to show you care is to include an accommodation card.
Let guests know of nearby lodging, where you have reserved rooms, or shuttle options. The cards on this list suit a variety of wedding themes and color schemes. They're beautiful, customizable, and include plenty of room for all your wedding details. We hope you had as much fun perusing these gorgeous accommodation cards as we did selecting them!
Did you find this post useful? Then save THIS PIN below to your Wedding Planning board for later!