5 Winter Worthy Wedding Dresses for 2022
There's something magical about a winter wedding — guests bundled in glamorous coats, berry-rich makeup shades, and a sense of cosy romance. The coldest season brings with it a list of bridal dress requirements concerning fabrics, length, style, and accessories. We've scoured our fav wedding sites to bring you 5 stunning winter wedding dresses for all tastes and budgets.
Winter Wedding Dress Styles and Suggestions
What exactly makes a gown winter worthy?
Well, it's part practicality and part aesthetics. A winter wedding gown needs to have enough coverage to keep the bride warm and comfortable. The last thing you want is to shiver down the aisle covered in goosebumps!
Your dress sets the tone of your wedding, and it can be pretty jarring if the tone doesn't fit the season. Consider these factors when choosing your winter wedding look:
Decent Coverage: Long sleeves, a sufficiently covered back and a full skirt are crucial for a winter wedding dress. That's where lace and sheer mesh fabrics come in very handy. They provide coverage while offering texture and a whisper of skin.
Fabric Choice: Thick lace is a great way to add warm coverage while still embracing texture and a little peep of skin. Or go for thick, buttery, lined satin or silk (a la Meghan, Duchess of Sussex).
Accessories: Gloves, shrugs, shawls and crystal belts are all fabulous choices to consider when styling your wedding look, especially with a simple dress.
Color: Cool-toned silvers, blue-based whites, and pure ivory are all incredible color choices for the iciest month.
Embellishments:

Winter is a dramatic, glamorous season so you can absolutely justify going all-out with ice-like crystal applique or a scattering of pearls.
How to Stay Warm in a Winter Wedding Dress
Have a shrug or shawl waiting nearby: select a gorgeous shrug or shawl to give to your bridesmaid or trusted guest to have waiting for you (perhaps faux fur, angora, cashmere or merino with pearl applique?). Pop it on once the ceremony is over and wear it for as long as you need throughout the day/night!
Remember Kate Middleton's wedding angora bolero? Perfect example.
Choose warm underwear: don't feel as though you must wear delicate under garments on your wedding day. Go ahead and choose insulated underwear which will lock in heat during the big event. Merino is a great fabric to choose as it keeps warmth close to the skin.
Consider gloves: gloves are not only extremely elegant, but they're practical during a chilly, icy wintertime affair. Picture long satin gloves studded with crystals or pearls — utterly elegant.
Fav 5 Winter Wedding Dresses
1. Winter Wedding Dress with Sleeves and Lace Bodice
We gasped when we saw this dress, which is a great sign! As far as winter wedding dresses with sleeves go, this one takes the cake.
The full-length lace sleeves along with high neck and back show the slightest peep of skin. While the sweetheart neckline perfectly frames the fitted bodice.
We see this as the ideal dress for winter brides who seek a modest dress with full coverage, a light, floaty skirt and a relaxed silhouette. It's neither fitted nor full, perfectly in between. You can absolutely wear insulated underwear and no one need know.
If you're planning on an up-do and romantic, hazy makeup we think this is the perfect dress to frame your face. The skirt delicately pools at the bottom, and moves with you as you sashay down the aisle and twirl on the dance floor.
2. Off-the-Shoulder Crepe Winter Wedding Dress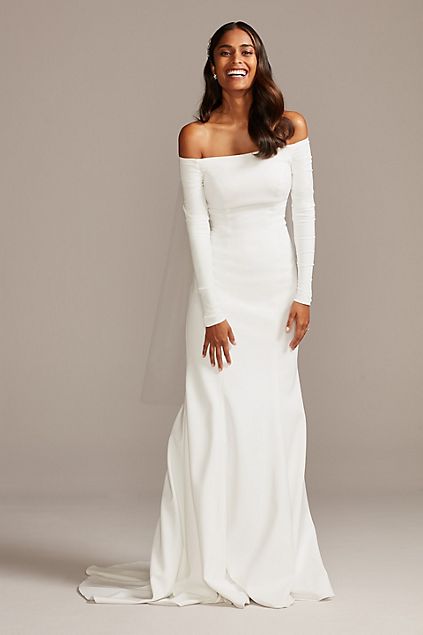 This dress encompasses the charm of simple winter wedding with the no-frills silhouette gently hugging the body. The dress celebrates the feminine shape with slimming seams, hugged hips, a gentle trumpet skirt and bare shoulders.
Oh, and have I mentioned how extremely affordable this gem is?
For very chilly climates you'll need a shrug, cape or bolero to wear after the ceremony as the shoulders are exposed. If your wedding is indoors in a heated venue then you will be absolutely fine.
We think this is the perfect dress for small budgets and simple, classic tastes. The crisp, white simplicity leaves plenty of room for accessories and your own personal flair.
3. Princess Court Train Tulle Winter Wedding Dress
by Cocomelody
Now we have a dress for a winter bride looking for all out romantic glamour. As soon as we saw this dress we thought of slightly older brides looking for something with modest coverage and sophistication combined with a sense of fun and just a touch of flirtation!
Gowns for older brides generally feature a higher neckline, longer sleeves and a modest back, and this dress fits the bill. What we love about this particular piece if the peek-a-boo back paired with vintage feeling lace-up ribbons, giving you the sense of modesty without falling victim to something boring or matronly.
The full, princess-style skirt will not only be show stopping down the aisle, but it will keep you warm and conceal any long, thick winter undergarments!
4. Chapel Train Stretch Crepe Winter Wedding Dress
by Azazie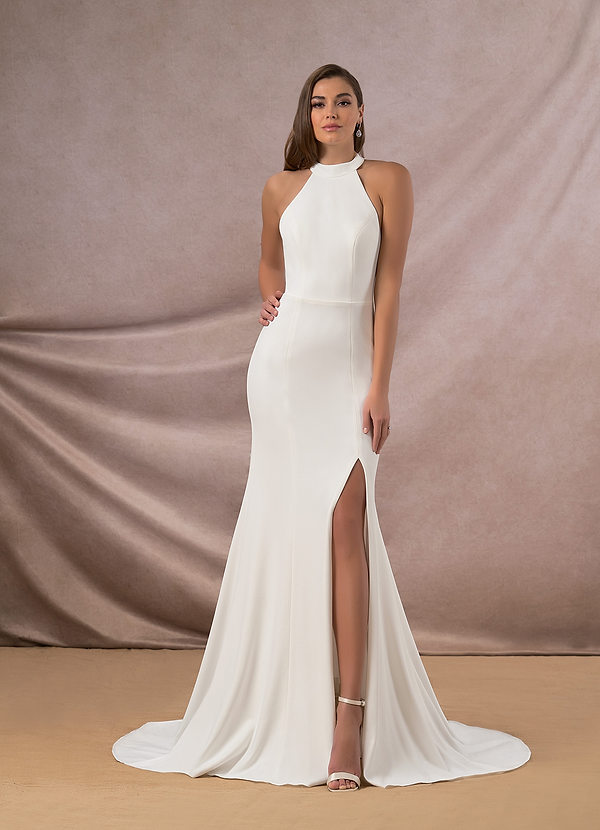 If you're looking for a winter wedding dress which combines modern freshness, classic elegance and a little touch of feminine fun, we think we've found the perfect dress. This incredibly affordable dress from Azazie features a stylish haltered bodice and a chapel train that is simply to die for.
The boned bodice shapes the upper body in a way that will flatter every body type, and the back shows a keyhole of skin, with a feminine and show-stopping bow! A classic, elegant dress with a phenomenal price tag and enough coverage to keep you comfy during your winter wedding.
5. A-Line Sweep-Brush Train Winter Wedding Dress
by Cocomelody
Last but certainly not least is this white A-line wedding dress from Cocomelody. Casual winter wedding dresses can be sophisticated and statement-making, and this dress proves it.
The old Hollywood-style ruched shoulders and classic line of buttons lining the bottom of the sleeves paired with the modern open back makes this is a timeless dress that will be just as adored by your grandmother as it will be by your bridesmaids.
So elegant, so simple.
A wedding during winter months is unique and calls for an equally alluring gown to celebrate the occasion. We hope these picks have inspired your dress shopping to find just the right one! Need more inspiration? Check out our article 8 Ways Winter Brides Can Dress Stylishly Warm.
Did you find this post useful? Then save THIS PIN below to your Wedding Dress board for later!