10 Best Bridal Combs to Wear for a Unique Look
When it comes to big events and hairstyles, I've always gotten lost in magazines and online image searches. Call me picky, but I yearn for something that screams classic, yet completely unique. I revel in finding a look that no one else has done in quite exactly the same way. Hours are spent searching for something to add just the right amount of pop, yet I wish someone could just point me directly at the bulls eye.
So illusive — that one piece I fall in love with and want to wear all year round!
On your big day, the accessories you choose along with your hair and makeup are details that cannot be understated. With everything from close up photos to slow-mo video shots, we know how imperative it is to get a look that feels like you, and one that wows. Many brides yearn for a classic and elegant look that will take everyone's breath away.
Although jewelry is a no-brainer necessity, bridal combs are sometimes overlooked as a "statement piece" when considering the perfect accessories. With a market awash in bridal options, it can be both time consuming and frustrating to know what works best for the look you dream about.
What is a Bridal Comb?
Combs, brooches, halos, tiaras, chains, veils and vines – the hair accessory list seems endless. With so many variations we thought we'd take the opportunity to clarify.
So what's the difference?
Bridal combs are exactly as they suggest: combs that attach and secure in your hairstyle. The terms headpiece and hair brooch are also used to describe a bridal comb. Most come with a single long-tooth comb a few inches wide, but it isn't unusual to also find alligator style, bobby-pin, or snap clip types.
The other types are variations on hair pieces that can be gorgeous and work beautifully. If you'd like more information, we've already done the veil alternative research here. But, for the purpose of this article we're talking all about combs!
How to Wear a Bridal Comb
If you've done a brief image scan on Etsy, you'll quickly see that bridal combs are a versatile item. Hair up, down, half-up, swept along the side, or top knots … the great thing is that almost any hairstyle works with a bridal comb. Purchse your comb ahead of time so that you can bring it with you for your hair trial. Speak with your stylist about preferences and the look you want to achieve, and he or she should know what to do!
The great thing about combs is that they generally stay in place on their own with little fuss or maintenance later in the evening. If you're concerned and want the comb solidly set (we're talking super-glue style), ask your hairstylist to use extra bobby pins or a generous amount of hairspray around the area ahead of time.
Be careful not to spray anything directly on precious gems, stones, or materials!
Bridal Comb Considerations
Before choosing to go comb or no comb, you might want to consider the advantages and disadvantages of including this accessory in your bridal look.
PROS
A comb can be that accessory that takes your look to the next level, making a truly unique statement.
It can complement and enhance the beauty of your hairstyle.
Versatility means it can be placed near the front, side, or around the back for extra effect.
Can pull together the theme of your jewelry and dress, for example if you match a classic pearl set with a pearl adorned comb.
Up-close photos from behind are going to turn out fabulous with an extra amount of interest and sparkle.
CONS
Consider whether you want to wear a veil in addition to a comb. If so, it can potentially get a tad complicated mixing combs with veils. Don't despair, it is possible. Just remember to envision the total look when it is put together. Is it too complicated? Too busy? If choosing a more elaborate veil you may want a simpler comb or no comb to balance things out.
Some veils come with combs themselves which is something to think about. You may be overdoing it on details, not to mention it could be uncomfortable for your head! Trust us, comfort will matter towards the end of the night.
Veil Combination
Although it comes down to personal preference whether to wear your veil under or over your bridal comb, decide ahead of time if you'll wear your veil for all or part of the day. If it's the latter, you need to consider a way to easily remove your veil without disrupting your hairstyle or the comb in place.
We recommend attaching a tulle veil to a very simple metal comb or clips with a fabric glue. Any strong glue will work, but we like this one. Now you can attach your veil over or around your bridal comb and easily remove it when the time comes.
Custom Veil Option
Alternatively, save yourself some trouble and get a custom-made veil that perfectly accommodates your bridal comb. Send us a photo and get a free consultation with the professionals – we can't see any downside to that!
Alright, now that we've handled the technicalities it's time for the fun part!
Top 10 Bridal Combs
We've sorted through the masses and carefully narrowed it down to put together our absolute favorite bridal hair combs that you'll want to wear not just on your wedding day, but many days thereafter.
1. Feather Bridal Comb
This feather bridal comb combines a hint of current and on-trend with boho-chic style, yet is still absolutely elegant and timeless. We love how the soft curve wraps perfectly around a bun for that piece de resistance to an up-do.
2. Swarovski Spark Spray Wedding Hair Comb Set
By Etsy: SabinaKWdesign
This bridal comb takes shine and sparkle to the next level with Swarovski® crystals. A truly unique design that can be used with many different hair styles. It also pays to go for quality crystals as they tend to photograph much better in light than typical rhinestones, which can appear dark.
3. Floral Bridal Comb
By Etsy: WildRoseAndSparrow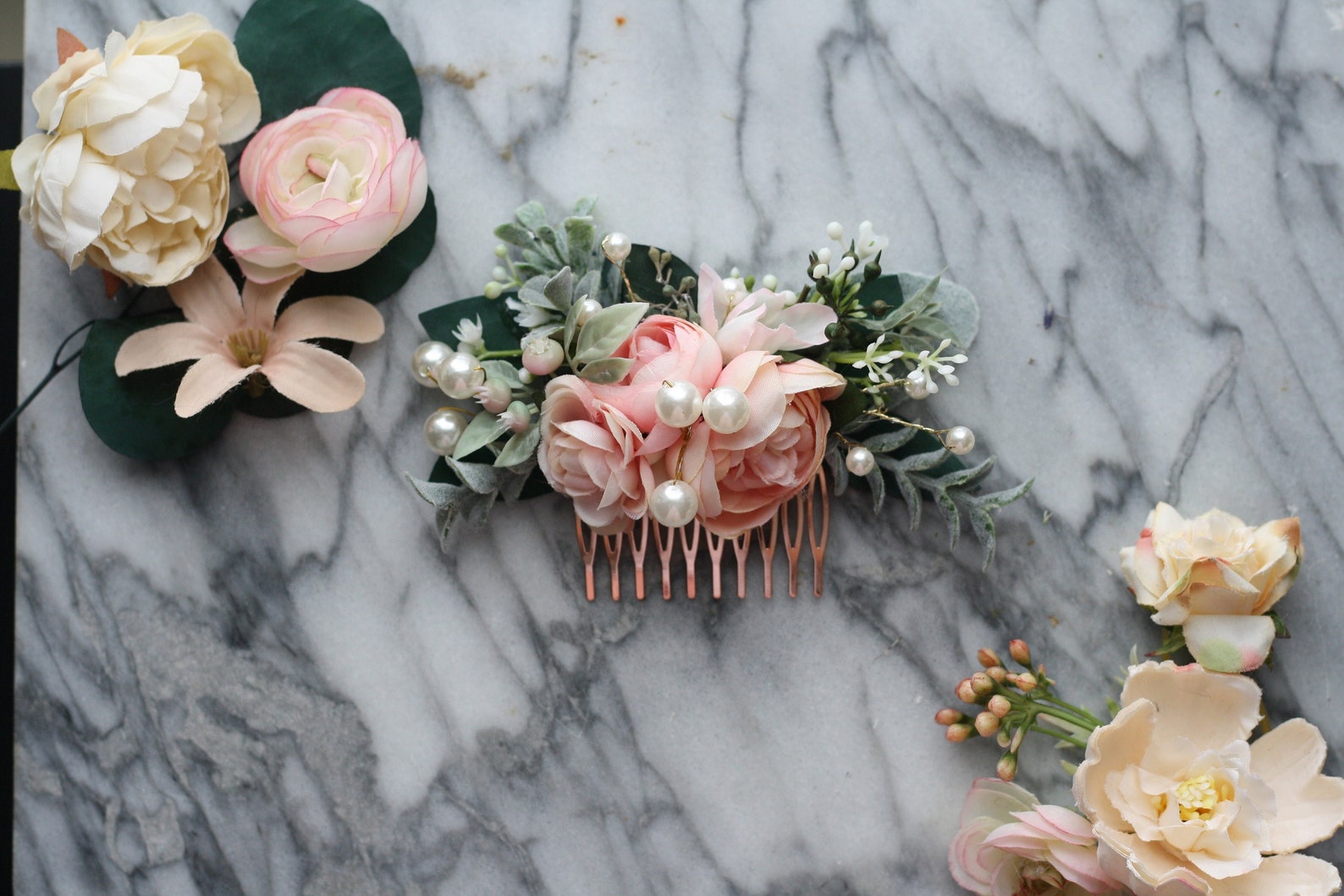 It was a tough and competitive category in the floral bridal comb department, but this one made it by a landslide. With ultra-realistic looking handcrafted flowers combined with the delicate pink color, we would be surprised if this comb didn't enter your regular rotation of hair accessories.
4. Rose Gold Bridal Comb
By treasures570
We're all about options, and this fabulous comb gives you just that. We love the style and tone of the rose gold with its ornate leaf details and Swarovski® crystal and pearls intertwined. If rose gold isn't your thing, go with the classic yellow gold or antique silver tone options. An added bonus is that you can customize your pearl color to match your dress with white, cream, or champagne options.
5. Crystal Loops and Flowers Bridal Comb
No top 10 bridal comb list would be complete without a classic vintage option — with a little hint of Great Gatsby flavor! This striking crystal loop and flower comb gives a literal twist on vintage antique, with a stunning effect for the bride who loves old-world class and charm.
6. Aurora Borealis Mermaid Bridal Comb
By Etsy: BestForBrides
We know there are some mermaids and star-gazers out there. And if not, we love this gorgeous Aurora Borealis Mermaid bridal comb just the same! With beautiful iridescent AB Crystals that capture every color of the rainbow, this comb truly lives up to the beauty and wonder of its name.
7. Silver Leaf Bridal Comb
By Etsy: DarethColburnDesigns
This delicate silver leaf bridal comb is the perfect choice for brides who want a subtle, natural touch in their hairstyle. We love the look of the tiny leaves peaking out from under wisps of hair just above the nape of the neck. Another comb that has definite long-term potential to be worn for future special occasions.
8. Eucalyptus Bridal Comb
by Etsy: whichgoose
Like children, it would be wrong to pick favorites, right?
Okay, let's just say we're unconditionally in LOVE with this eucalyptus bridal comb. Lambs ear leaves, dried baby breath, and sola flowers combine with matte silver for a delicate comb inspired by nature. This Etsy shop has rave reviews and we're confident you'll be happy with your choice.
9. Resin Flower Bridal Comb
Beautiful for an outdoor garden wedding, this remarkable bridal clip made the list as the epitome of a "one-of-a-kind" statement piece. We adore the overall effect of the combination of antique brass filigree and treasures including everything from Swarovski® pearls to resin flowers. With interesting little hints of tasteful color, beautiful texture, and an abundance of shapes and form, it all works together in the most unexpectedly gorgeous way.
10. Kauai Bridal Comb
Last but certainly not least is this absolutely stunning Kauai bridal comb. A duo of gorgeous crystal flowers combine for a breathtaking, ethereal effect like we have never seen before. The elegance of this two-piece comb is so prominent, you may choose to skip jewelry altogether and let these flowers steal the show (bonus – put the jewelry budget towards these!).
Convinced of the Comb
What should grab the most attention and what should match or blend into the backdrop a little? Bridal combs are often overlooked as an option for making a big statement on your wedding day. With everything from hairstyle to veil and from makeup to jewelry, it can be overwhelming to make balanced style decisions.
We love the idea of letting a beautiful one-of-a-kind bridal comb to give your look an extra special and unique touch. Heads will turn to catch a second (or third!) glimpse. Beautiful bridal combs don't take up much space, and are an item you can wear again at a future special event or as a hand down gift. An all-around win in our bridal books!