10 Chandelier Earrings to Raise your Wedding Wow Factor
With so many decisions around your wedding, it can be a sudden flood of choices from start to finish! Jewelry is another one of those choices that you want to get right, particularly earrings that are close to your face and featured in all of your close-up photos.
Chandelier earrings have traditionally been that one go-to earring that truly makes a statement. Glamorous, elegant, and particularly popular among celebrity wedding circles, these earrings add a perfect finish to your bridal look.
Hair Style Considerations
Typically worn with up-dos, chandelier earrings do an incredible job accentuating the jawline. An advantage to their length and statement style is that they can also work with hair that's down as they will not easily become hidden or lost behind longer curls. If choosing to wear your hair down, keep in mind that you'll want them to hang properly, especially in photos. Tiny, delicate stones and intricate designs may get tangled, so you may want to choose larger stones and settings.
Dress Neckline
Another aspect of their versatility is that they work with almost any dress neckline. We love the look of these earrings with bare shoulders or ultra thin straps. As a general rule, the more simple your hair and neckline, the longer and more elaborate your earrings and jewelry can be. These beautiful earrings can also be paired with an equally stunning necklace, complementing without competing, like this by Powder Blue Bijoux (note the simple hair and neckline!)
Chandelier Comfort
In terms of comfort and wear-ability, this style of earrings can potentially be heavy depending on material and length. Take this into consideration when browsing different designs. If you have sensitive ears, choose a pair with smaller stones or a shorter length. Additionally, there are very effective fix options available for heavier earrings such as emLobe Wonder/em, which eliminate stretching and strain on your ear lobes.
Chandelier Earring Material
Chandelier earrings come in many types of materials such as gold, platinum, silver, crystal and diamonds. We've scoured through hundreds of pairs to put together our curated list of our top ten wow factor chandelier earring looks for 2020.
Top Ten Chandelier Earrings
1. Swarovski Crystal Chandelier Earrings
These earrings draw inspiration from a beautiful floral pattern found in nature. They are the perfect length for those who may have a shorter neck or be having reservations about that ultra-long look. With solid posts and backings you won't be searching for that missing earring halfway through the day.
2. Feather Crystal Bridal Earrings
We are obsessed with these ethereal feather crystal chandelier earrings! Truly a one-of-a-kind pair, these gorgeous earrings perfectly combine classic elegance with a subtle bohemian twist. With sparkling crystal and tiny cubic zirconia these unique, stunning earrings will set your look apart from all the rest.
3. Chandelier Earrings
These beautiful Chandelier earrings by Dareth Colburn keep it modern and elegant. We love the branch-like design pattern with oblong pearl accents.
4. Swarovski Crystal Bridal Earrings
If you've been searching for that piece that brings the "wow factor", your search is over with these Swarovski® crystal bridal earrings. Exquisite ornate detail, crystal, zirconia and a longer length perfectly come together for a look that will catch eyes from every direction.
5. Silver Orchid Chandelier Earrings
Whether you are including orchids in your wedding decor or you just adore the beautiful tropical flowers, these earrings will add a striking touch, inspired by the beauty of nature. Elegant sterling silver orchid petals cascade in descending tiers from a sparkling teardrop zircon.
6. Art Deco Rose Gold Chandelier Earrings
These chandelier earrings are one of our favorite gold earring selections with their stunning art deco style design and delicate crystals. A subtle touch of rose gold adds extra shine. We love that the design feels stylish and simple without being the least bit understated.
7. Cubic Zircon Crystal Earrings
by GlamDuchess
Another look that cannot be ignored is these breathtaking cubic zircon crystal earrings. With a hint of Victorian era, these wing-shaped stunners are reminiscent of something you would see on celebrities during awards season. We love that the post allows for the earring to go a bit higher on the lobe, framing the face perfectly.
8. Art Deco Chandelier Earrings
by Etsy: treasures570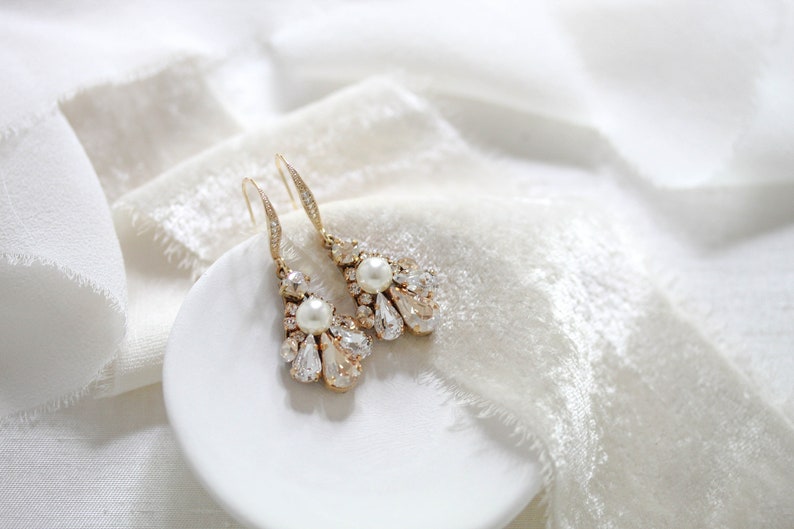 Another gold look that made our list is these art deco inspired earrings. With a delicate cubic zirconia studding wire that leads into an assortment of crystals and pearls, these earrings scream creative, artistic glamour.
9. Vintage-Inspired Freshwater Cultured Pearl and White Topaz Drop Earrings
by Blue Nile
By now you may be asking yourself, "But where are the pearls?"
Well it was worth the wait. These simply elegant freshwater cultured pearl and crystal chandelier earrings are a timeless set that you'll admire in photos for years to come. This set is particularly fitting for those who want a more subtle, short earring or have petite features.
10. Chandelier Statement Earrings
We might have saved the best for last. These jaw-dropping statement chandelier earrings by Ti Adoro pull out all the stops. A gorgeous ornate design adorned with endlessly sparkling cubic zirconia brings "dramatic" to a whole other level. Fair warning: it may be tough to top this stunning set!
Earrings are an important part of tying together your look on your special day. You want something that feels like you, stylish, yet will stand the test of time when you look back for years to come. Chandelier earrings add that extra touch of class and elegance, drawing incredible attention without taking away from the rest of your bridal look. Wear a pair of these striking earrings and make style regrets disappear!
Despite her dreamy wedding blogger lifestyle, Meredith's day job is running ClassicVeils.com and a full-time mom to an active toddler. If she could, Meredith would spend her days taking cruises, helping animals in need, and watching Big Brother!