13 Unique Art Deco Engagement Rings – Stunning One-of-a-Kind!
Art deco first found its roots in France during the 1920s. Influenced by the modern art movements of the time and inspired by Native American and Egyptian art, its distinct aesthetic has influenced everything from famous architecture to jewelry design.
Fortunately, art deco engagement rings remain as stylish today as they were a century ago! If you're captivated by the glitz and glamour of exclusive Chicago speakeasies and opulent parties at the Gatsby mansion, stick around. We'll show you some art deco engagement rings that'll knock your garters off.
What Makes an Engagement Ring "Art Deco"?
There are a few discerning characteristics that make an engagement ring unmistakably art deco style:
Streamlined forms and geometric shapes – Clean lines are where it's at, so you'll often find emerald, shields, pear, and marquise-shaped cut gemstones accented by settings with smooth lines. Graceful circular shapes courtesy of cushion cuts and halo-style rings are popular.
Since the style is all about complementary yet contrasting forms, it's common to see a round center cut stone featuring a halo set with small square or rectangular gemstones instead of circular ones.
Diamonds and platinum – The art deco period was about all that glitters, so it's no surprise that diamonds and platinum were the pairing of choice when it came to selecting an engagement ring for your best girl back then.
Bold colors and contrasts – Diamonds and platinum don't have to be monochromatic, though! Art deco engagement rings often feature splashes of gorgeous, contrasting colors courtesy of vibrant gemstones.
Art Deco and Vintage-Inspired Engagement Rings
1. Emerald and Diamond Engagement Ring
by Blue Nile
The punch of vivid green at the center of this halo ring gives it so much flair. We envision it on the delicate finger of a rosy-cheeked flapper as she sips her cosmopolitan. We've officially been swept away.
2. Platinum Art Deco Inspired Flower Halo Engagement Ring
by James Allen
Glittering platinum and diamonds with a streamlined halo setting make this ring a fantastic example of art deco chic. Pair it with the matching wedding ring for even more embellishment.
3. Vintage-Inspired Art Deco Baguette Engagement Ring
by BocajNarima
A thoroughly modern ring for the thoroughly modern woman. The clean geometric lines of this baguette engagement ring remind us of some of the icons of architecture that put art deco on the map – the Chrysler Building, Empire State, and Hoover Building in London to name a few.
4. Marquise Vintage Engagement Ring
The center marquise-cut stone complemented by angular accent side-stones in this ring is an absolutely perfect example of art deco design. Even the fluid silhouette of the band adds to the aesthetic. Choose from a 14K rose gold or platinum setting to customize it.
5. Antique Sapphire and Diamond Art Deco Target Ring
by Etsy: ElizeJewellery
This stunning diamond ring will take any gal's breath away, and the brilliant blue sapphire center adds and even greater touch of sparkle! Art deco style is often characterized by the use of bold color and this ring nails it.
6. Vintage Art Deco Diamond & Platinum Ring
by Etsy: NorthCoastJewelryLLC
Straight out of the 1920s, this vintage antique ring is the real deal. The diamonds are spread across asymmetrical split shanks with a large marquis diamond bisecting it. It's all set in 18k gold with milgrain detail to round out that perfect art deco look. This is seriously a one-of-a-kind ring.
7. Antique Diamond and Emerald Halo Filigree Ring
Another authentic antique ring, this one has managed to keep all the glamour from the roaring 20s preserved in a gorgeous diamond and emerald ring. The center old mine cut cushioned diamond is over one carat, and is beautifully contrasted with those gorgeous geometrically arranged emeralds and diamond baguettes.
8. Art Deco Cocktail Ring Vintage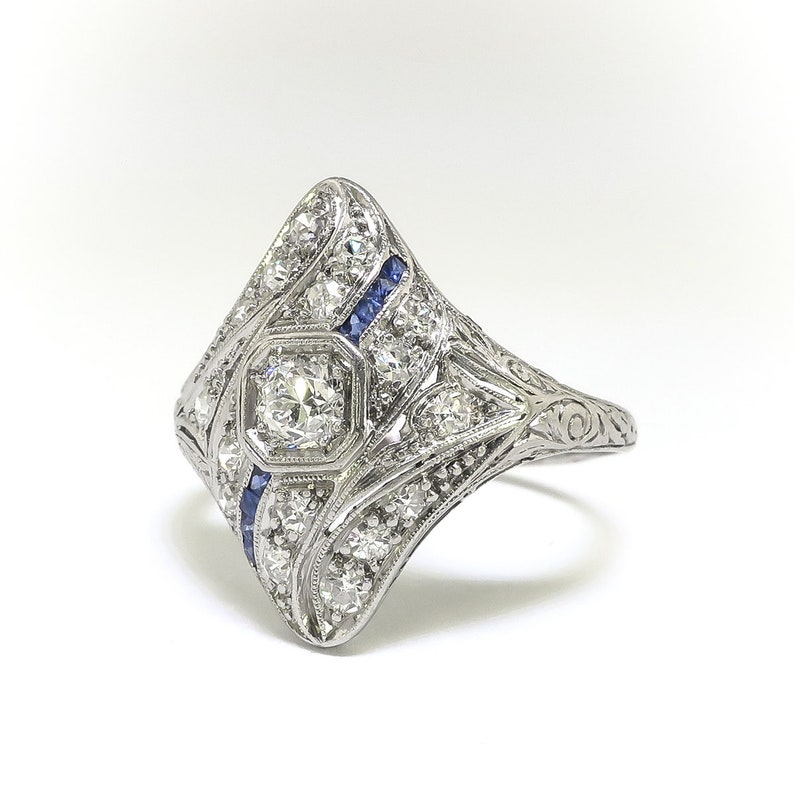 Enough to make a girl swoon! This ring's filigree embellishments are impressive enough, but its brilliant old mine-cut diamond looks positively radiant within the geometric design of the setting. A true one-of-a-kind, this ring isn't "vintage-inspired", it's the pinnacle of vintage art deco style.
9. Vintage Platinum Diamond Engagement Ring
The unique "pie crust" setting featured on this ring is so unmistakably retro, and it isn't easy to find something of similar design and quality today. Not only does it look fabulous, it also keeps its 1.41ct diamond snugly in place, flanked on each side by three delicate single cut diamonds. Perfect.
10. Diamond, Sapphire, and Ruby Asymmetrical Halo Engagement Ring
Want to stand out in a crowd? This'll do it. This ring features a gorgeous mosaic setting of ruby and sapphire stones surrounding a dazzling round diamond. Really, prepare to wear it out and turn some heads.
11. Gold & Diamond Trilogy Ring
by Etsy: ScotchStreetVintage
The three round transitional-cut diamonds featured in this art deco style ring are arranged in a graceful semi-swirl and beautifully accentuated by the bright 18K yellow-gold allusion setting. This ring would make a great engagement ring, or anniversary ring celebrating your past, present and future together.
12. Platinum Diamond Ring With Heart and Foliate Motifs
by Beladora
The ultimate romantic engagement ring! The delicate floral and diamond details within the setting and striped openwork band are indicative of amazing craftsmanship, and the whole thing works to put the spotlight on the center round-cut diamond. This ring is definitely fit for a princess.
13. Vintage Van Cleef and Arpels Emerald Cut Diamond Ring
by Langantiques
Ok ok, so this one's not for sale, but we really wanted you to see it. We also really want you to read the amazing history of this ring. Hopefully, it'll inspire you to get out there and find the vintage art deco engagement ring of your dreams.
Know Your Gemstone C's Before You Buy
Usually, when talking about how to choose a great gemstone, jewelers refer to "the four c's". That's cut, clarity, color, and carat. When choosing a quality stone, however, carat doesn't have a whole lot to do with it, actually. Here are a few things to consider about the most important c's:
Cut
Different gemstones have their own inner glow and a great cut will accentuate and showcase that. Stones like sapphires and diamonds will feature cuts that show off how the light filters through it, while opaque stones like onyx and opal are usually cut to display the detail within the stone's opacity.
Clarity
A stone's clarity is measured by how the natural light reflects through it, but not all clarity is judged equally. For instance, the best quality diamonds will have no inclusions, flaws or color when penetrated with light. However, the beauty of many gemstones is optimal when the natural light reveals internal inclusions like lines, spots, and other so-called "flaws".
Color
Perhaps the most critical factor when choosing gemstones like sapphires, emeralds, rubies, etc. is their color quality. Consider the gem's hue (the pureness of the gem's dominant color), its tone (its range from light to dark), and its saturation (the intensity or purity of the stone's color) when shopping for gemstones.
Art Deco is Here to Stay
A lot has changed since the roaring 20s – after all, trends come and go. Thankfully, some go permanently and some get rebooted for another generation to call their own. And then there are the trends that appeal to us on such a base level that they'll never go out of style. Art deco is among them.
We adore all things art deco, but perhaps the art deco engagement ring most of all. To us, it represents the spirit of the flapper: independent, fun, and thoroughly modern.
Sound like someone you know and love? Fantastic! Give her the ring, pop open some bubbly, and let's raise a toast to your fun-loving free spirit!
*Did you find this useful? Did you learn something from it? If you did, SAVE THIS PIN below to your Engagement Rings board and check this post out at a later time*