Wedding Tradition: The Cake Pull
I love learning about wedding traditions past and present, and then sharing those traditions on the blog with you!
At first I set out to write a post about charm gifts for your Bridesmaids. You know the ones that you can attach to a bracelet, which have become so popular over the last few years. However, I stumbled upon a lovely wedding tradition that I've never heard of before called The Cake Pull, and decided to share the cute tradition.
History of the Wedding Cake Pull
Originally starting in Victorian England and known as the Ribbon Pull, this tradition has grown in popularity in the southern US (especially around New Orleans) and has become well known as The Cake Pull. Both traditions are the same.
Charms are hidden under the bottom layer of the wedding cake when it is assembled
The unmarried female friends of the bride each pull a ribbon to which a silver charm is attached
It is believed the charm will foretell their future and bring the receiver good luck!
Adding Cake Pull Charms to the Cake
I bet you're thinking, "How exactly do I set that up?"
Whatever you do, don't bake the charms into the wedding cake! It isn't like a money cake. You should discuss plans and pre-arrange with your cake baker, so that they can hide charms when assembling the cake. Unless of course, you are making the cake yourself. Here are some tips to remember:
Follow your normal cake baking instructions.
Ice the cake completely except for the pipping detail. You will add that once the charms are in place.
Stack the layers of cake, remember to insert the charms between the cake layers, or if you prefer, between the cake tray and the bottom layer of the cake.
Charms can be arranged all around the cake with a satin ribbon, but I would suggest arranging them towards the back of the cake, so as not to ruin the cake cutting photo-op.
Finish the cake by adding the remaining pipping details around the cake that will also hide any of the charm.
The ribbons can either be in a coordinating wedding color or in a beautiful white/ivory color to match the cake. Another option, rather than a satin ribbon, is attaching the charms to a pearl bracelet. This would make a lovely token gift that the lucky ladies can wear all night, and cherish for a long time to come.
Depending on the couple, the ribbon pulling can be done prior to the cake cutting or afterwards. Typically, all the single ladies gather around the cake and hold onto a ribbon as a photo is captured, then on the count of three, "pull" their ribbon out simultaneously, exposing a beautiful charm.
The charm would normally carry a written message on the ribbon that each girl could read aloud, but that might be more appropriate for a bridal shower type setting rather than at the wedding itself.
Cake Pull Charm Meanings
The tradition of these charms were associated with well wishes and fortune. The original and most common charms included:
Ring – symbolizing next to be married
Horseshoe or four-leaf clover – signifying good luck
Telephone – meaning that good news is coming
Anchor – hope
Heart – love will come
Thimble or button – old maid!
Present day brides tend to have more than 6 single friends, sisters, or cousins on the guest list. Therefore, additional charms have been introduced:
The Wreath – A happy home
The High Chair – Blessed with children
The Rocking Chair – Longevity
The Air-plane – Travel and adventure
The Satchel – Good fortune
The Mirror – A Happy Life
Hot Air Balloon or Eiffel Tower – A life full of adventure and travel
Claddagh – Friendship, Love, & Loyalty
Butterfly – Eternal Beauty
Star – Your wish will come true!
Fleur-de-Lis – Love and Prosperity
Kite – Something fun is about to happen
Wishbone – Success!
Stork – Next to Have a Baby
Streetcar – Your Life Will Be Filled With Fun and Leisure
Since this tradition has been heavily influenced by the southern part of the United States, you'll even see charms that are appropriate for areas like New Orleans:
Jazz music – You Will Have a Life of Smooth Creative Style
Jester – You Will Live a Colorful Life
Mardi Gras Mask – Your Life Will Be a Party
Oyster with Pearl – You Will Achieve Anything You Want
Pelican – You Will Have a Life of Plenty
Ship Wheel – You Will Have a Life of Stability and Hope
Steamboat – You Will Have a Life Travelling the Seas
Water Meter cover – You Will Have a Happy Home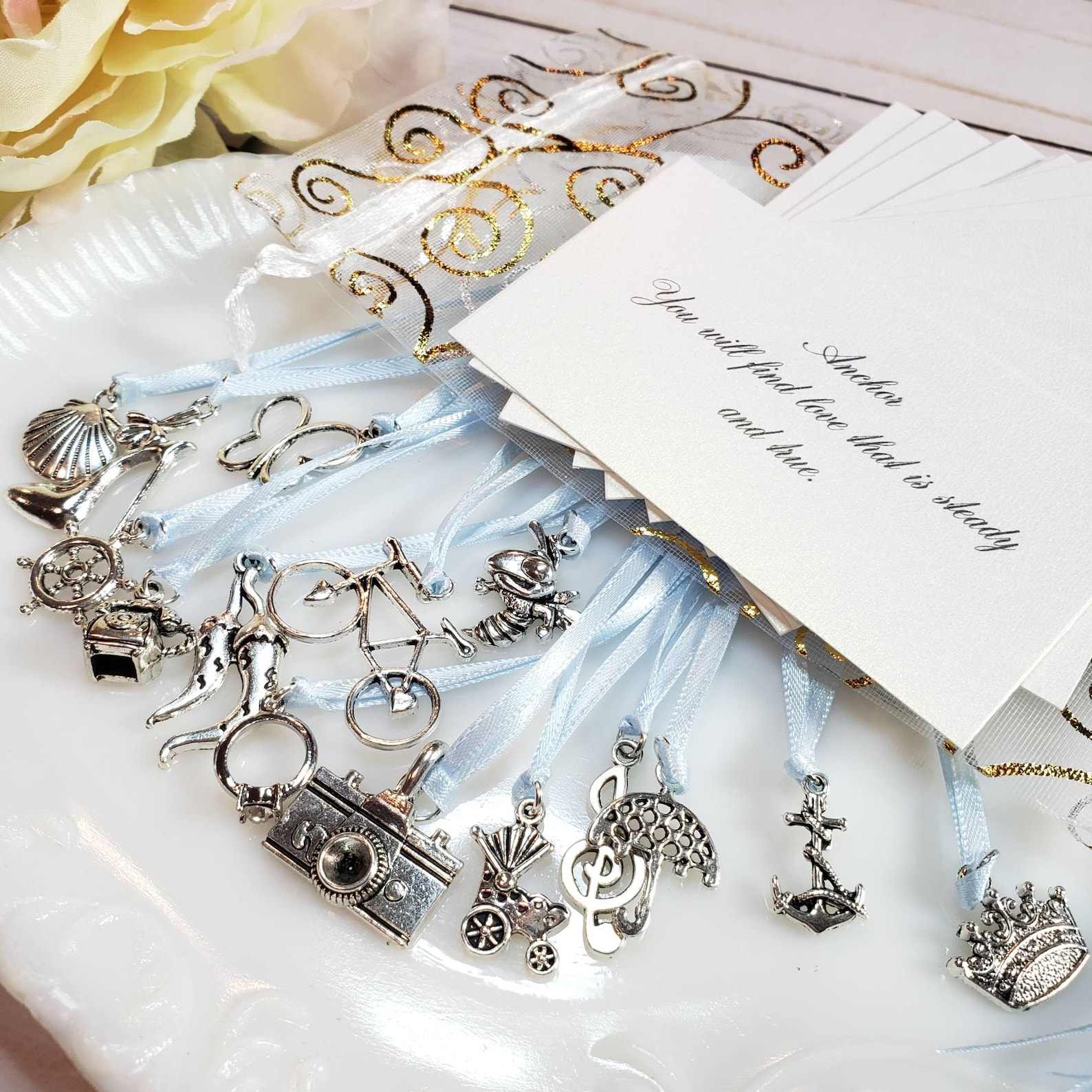 Definitely take a browse through Etsy if you are looking for some cute charms for your own cake pull.
After researching and discovering the origins of this wedding tradition I think it's a really lovely idea. The Cake Pull tradition pairs nicely with the bouquet toss, or could be substituted in place of a flower toss if you really want to hold onto your bridal bouquet for wedding memories!
What do you think of the cake pull? Will you be having this tradition for your wedding … or perhaps a cute idea for your bridal shower? Let us know and then send us your pictures if you do. We would love to see all of your different cakes and potentially feature them on our site.
Despite her dreamy wedding blogger lifestyle, Meredith's day job is running ClassicVeils.com and a full-time mom to an active toddler. If she could, Meredith would spend her days taking cruises, helping animals in need, and watching Big Brother!